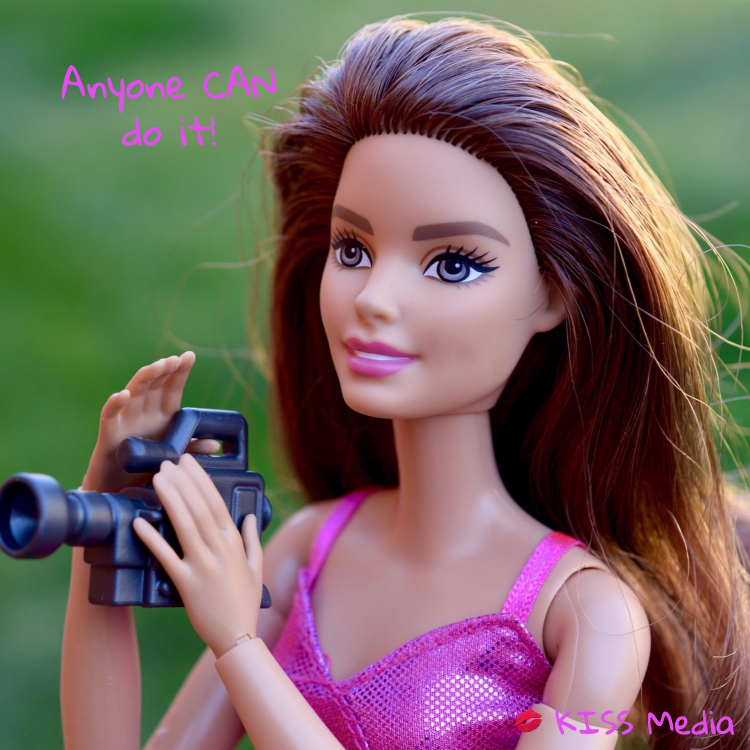 It feels like a lot of pressure being told you NEED to be shooting video today in order to compete with online marketing… It's hard enough to find time in your day to post on your business page, let alone having to become a producer, writer, film maker and star in the production as the lead actor!
Video is actually quite new, YouTube was only founded in 2005, however it is becoming extremely  popular… with over 13 billion videos watch everyday (April 2017) you can see how the early adopters will have a big advantage over those that continue to hesitate…. A good question to ask yourself is…. Are any of those 13 billion videos mine?
For the purpose of this BLOG we are learning to shoot a Native Video to be uploaded straight to your Facebook Business Page from your smart phone… after you can load your video to your YouTube channel, if you have one. Native video simply means  your video was uploaded to Facebook straight from your phone, not a third-party such as YouTube.
If you could understand the value in doing videos for your social media it might make getting started a little more easier. Let's start by counting down the…
 TOP TEN REASONS YOU SHOULD SHOOT VIDEO! 
10.  Mobile Users are attracted to video📱
9. Conversion rates, click-through and e-mail sign ups are much higher with video
8. Technology favors video 🎥
7. Video has Higher interaction or that buzzword "ENGAGEMENT" with your viewers than any other published content, even those lazy users that never tell you they are there…. ah ha, we know you're there because every watched video is now a true viewed statistic. 📉
6. More eyeballs watching means MORE exposure for your business. Brand Awareness, Top of Mind Marketing 👀
5. Video helps people understand that you are an authority on your subject matter… this builds TRUST!
4. The algorithms LOVE video… even if that's Greek to you, algorithm's talk to each other, it's important behind the scenes activity where a lot of consideration goes into the placement of your posts in news feeds, when the algorithms need to pick what content gets ranked higher, video is the number one choice.. (that's actually two good points)
3. Video is an easy way for you to showcase, answer questions, explain interesting facts, and add value to your customers day, think "Edu-Tain" Education and Entertainment.
2. SEO…  that's right Search Engine Optimization – It helps you to be found on the world-wide-web… and don't forget today we have SMO… Social Media Optimization. PLUS… GOOGLE LOVES VIDEO that's how it ranks higher.
Drum roll please……. People LOVE to Watch video… It's easy… and even if 85% turn the volume off… they still 💞 VIDEO. Today you can add captions to your videos, and most social networks even do this for you and it's FREE.
I bet now you know these POWERFUL reasons, you're ready to get started… right?
Still feeling a little shy, are you struggling with these popular questions?
Are you feeling like no one would want to watch your videos
You don't know what you should talk about
You're just too scared to try
You don't have the right equipment
You have NO idea how to shoot a video
Let's go down this path together… one step at a time.. ok?
First of all it would be really important to actually be an authority on the subject you are going to talk/shoot about. It also is important to believe in your product and yourself.
It is said that once your God-given talents intersect with your true passion, you'll be unstoppable. Do you LOVE what you're doing? Who better to tell the world about it then you!
This means your head needs to be in the right space.. Does this make sense?
If you are confident about your products or services, you're already 1/2 way there. The rest comes down to a few simple tasks..
Write out a storyboard for your video – Introduction – Middle – End – Recap – Call to action
Make sure it is relevant to your products or service
Get out of the box, but don't throw the box away…
 Now practice a few times, get a flow going .
Get all your equipment together. Tripod – Light – Cleaner ….
Now take 5 minutes to breath, get your flow…. sit up straight. (It might help to put a little pillow or rolled towel under the backside of your bum, it'll help you stay open… a lack of confidence, nervousness or inner doubt, makes us shrink.
Now follow these little steps in the video….
Have all your equipment ready. Such as lights if needed, Tripod, Cleaner & Cloth
Put your phone on Do Not Disturb or Airplane mode
Clean your phone and lens
Go into your camera, turn your phone to video
Hold your phone in a landscape position – This way no black lines will run down either side
Lock Your Screen by holding your finger on the screen, now you can brighten or darken your screen
Now test the sound and lighting
Look into the lens and not at yourself. Maybe put a little star near the lens as a reminder where to look. SMILE
Hold the phone just above your eye line
Now begin shooting, and talk to me not at me… Try to have a rhythm to your voice, don't speak too fast. You're going to be AWESOME!!!
Remember the only way you'll learn is to try, the more you do, the easier and better you'll get!
Special shout out and thank you for helping us today Michele Clifford from WannaTalkHealth
Heather & Catherine