Making a plan to succeed with your social media in 2016 isn't as hard as you might be thinking. It simply requires YOU to make a commitment to begin. Pen in hand, paper to write on, and a little guidance.
Never look at the entire year all at once, it could come across as too much, overwhelm you, and cause yet another delay in getting started. Instead break the year into quarters and deal with the first three-months. January – February – March……. that's it!
Starting with January 2016 – Ask yourself – What is my Goal, what is it I want to achieve?
Is it as simple as connecting more often with existing clients, staying top of mind, generating new leads, and sharing valuable content?
Now – Write out everything that has been piling up in your head as to what you think this should look like. While other people and coaches can be a good guide for learning how to use the technology, social media is about you and your authentic self & business. Who and what is it you want the public to see you as, & ultimately think of you as?
Every time you post on social media you are telling a story about what you represent, your beliefs, your knowledge, and your opinion. Take the invisible that is in your head and make it visible on paper, from here you will begin to pull your business plan together.
Facebook
Make sure you are always learning and experimenting with the changes that occur on Facebook everyday, you must keep up with technology because it is not going away, only becoming more important. Take the time to write out what it is you like about Facebook, you could even ask your friends.
What you want to do is create content that inspires, contributes and educates your audience. It is called LIKEABLE content and some business pages ROCK at doing this.
Try to be a student for life by studying what is working for others on Facebook and learn to recreate the posts you like with your flavour and branding in mind…. without actually plagiarizing.
Consider the Example below as a template for your Business plan on Facebook
4 posts in one week – Time involved 15 minutes for each posting – extra time if you are going use for example PicMonkey.com  to add your branding on photos.. personalize your content for sharing!
Cross-pollinate with other business pages 5 minutes
or once a week spend one hour and schedule all four posts one after the other.
Plus 15 minutes of cross-pollinating.
Monitoring your engagement on your business page is 24 hours a day – from your smart phone!
Scheduling your business posts is a brilliant idea for people who plan to go away for any length of time… Vacation!!!
**In the photo below you can see next to the word Publish a white drop down arrow, by clicking this arrow a menu will appear, this is where you click schedule.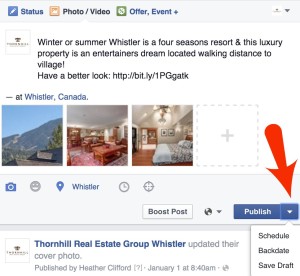 Ideas for postings content on Facebook
Introduction of any new products or services 

Clients using your products – what are the first four letters in Facebook
Great photography shots – The world is your content – find a friend who has great photography!
Post people having fun
Quotes
Tips & Tricks
Ask your followers/fans/connections – Questions or for their Opinion
Content Blog – click here for more ideas
Video –

you must start to use video in your content & Native Video (we will talk more about this in next weeks blog)
Twitter
Many people are still not utilizing Twitter to brand and market their business. It is true that you can link your Facebook Business page with Twitter and automatically TWEET when you post content on your business page. I personally do not see any problem with doing this, even if some social media teachers frown upon it.
This is how you do it – www.Facebook.com/Twitter
HOWEVER I do not think it is advisable to Tweet into Facebook. You still need to build your Followers on Twitter as well as Follow other Peeps in order to fully utilize this network, having said that I do not believe in BUYING likes or Followers on any network. Slow and easy always wins the race, over time your Followers will prove to be the most valuable. Every social network needs a business plan, this is important because you need to know why you are spending more valuable resources on another network.
Twitter is another social network to have a presence on and like all the others it takes time to nurture and build relationships. Make sure you have an understanding of its value to you and your business or you could feel less than inspired to create content.
Think of Twitter as a rapid fire way for you to put content in front of potential customers, but remember people are being inundated with content constantly and you need to ask yourself how you can stand out from the crowd or noise???
Keep your tools sharp by constantly learning and growing your knowledge base. Learn to speak the language of social media and learn how to present your marketing tools when required.
Schedule 15 minutes a week to add one Tweet

5 minutes to view your notifications – send thank you's 

5 minutes to Follow 5 people!
LinkedIn
As a professional this is my absolute favorite place to be and 99% of the time I access LinkedIn from my smart phone. However with the fabulous recent updates to LinkedIn, I am creating very simple quick blog posts of photo updates with one line lessons from my laptop… what could you think of as a valuable post to all those business connections?
The most important component to LinkedIn is have your profile and summary 100% complete and looking sharp. Secure your public profile URL so you don't come across in Google as a BOT… not a real person.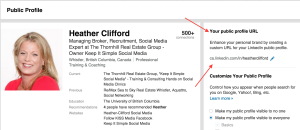 Take your time with this network and dedicate 15 minutes a week to learning how to be effective with LinkedIn and how to build a data base of influential connections, be personable and consistent… that is one thing my audience knows and can count on.. I am here consistently, I might take a day or two off but I come back and I dedicate my knowledge of social media to helping others. What is your consistency model going to be?
So there you have it, in less than 2 hours a week you could begin to create a footprint on social media. From there, consistency, monitoring, and patience will pay off over time. I'd love to hear if this helps you get started. Remember you can always ask me for help on my Facebook Business Page Keep It Simple Social Media
Cheers,
Heather