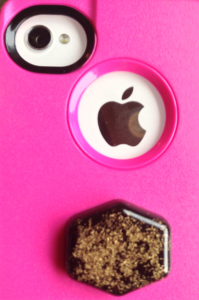 Lately people have been asking me what this little jewel is on my i-Phone… It's really a Facebook story.
In November I was driving to Port Alberni on Vancouver Island for a workshop and decided to stop for a coffee at Karma Coffee House. I like to visit businesses that support my Facebook business page.
Mel and Rob the coffee gurus have been loyal followers of KISS Media for quite some time now. When I was leaving I grabbed a little biscotti from the jar… as I drove away I popped it into my mouth and within seconds "Christmas" came to mind… I asked Rob who baked the biscotti.
I sent a private message to the young lady Mirella from Biscotti Di Notte in Qualicum and ask her if I could buy 6 dozen of those delicious treats for a bake exchange.. Mirella BTW is also a wonderful fan of Keep It Simple Social Media..we also had never met before..
Mirella thought buying the biscotti for a bake exchange was a wonderful idea and asked if I could pick them up during the Fourth Annual Christmas Faire with a Vintage Flair. It was such a pleasure to meet the vibrant Mirella in person and finally get to meet Mel.
When my boyfriend and I arrived at the fabulous artisan fair we wandered around looking at all the incredible displays of art, food, jewelry & passion…
As I looked at each display table something caught my eye…
This was when my life path crossed with Tanya Kucey.. the rest is history.. Tanya from Earthlights Jewelry is our guest blogger today, she will share with you the most fascinating story of how we can do small things that make a big difference in our lives and our health when it comes to using technology.
A Natural Solution to EMF Protection
It's an interesting fact. Many of the electronic marvels we've created to help us do more In our modern lifestyles, are proving to be the very devices that are slowing us down! And they are doing this by affecting our health through exposure to electromagnetic fields or EMFs.
Exposure to EMFs are not a new phenomenon. In fact, nature is full of them –including the human body and the earth itself. The problem lies in the relatively new and higher (more damaging) frequency levels of man-made EMFs. And its on the upswing. It's been estimated that we are exposed to 10 million times more artificial radiation than our grandparents.
Years of studies and human experience have shown that EMF's can cause a variety of health problems by interfering with our natural bioelectric signals. The tricky part is that even though most of us know this, we continue to use these devices anyways.  Stopping the use of our technology isn't an easy choice, because let's face it, things like appliances, computers and cell phones make our lives easier! The question is; how do we live with potentially damaging technology and still protect ourselves from something that isn't even there for us to see?
Using an EMF Energy Protector from Earthlights Jewelry is one solution.  These energy shields are created with orgonite which helps protect the wearer from EMFs by creating a positive energy. Orgonite is safe, it's natural, and it can help.
 The Science of Positive Energy
Orgonite is the combination of conductive metals and quartz crystal which creates positive energy through the piezoelectric effect generated when under pressure. It's very simple technology and the same which powers your computer clock or digital watch. This combination of materials creates a self-sustaining positive energy source that doesn't time out.
The energy and life force of orgonite has been well documented. One of the more interesting views is kiriian photography which actually shows this energy force glowing.
Different crystals, stones and metal ratios within the resin can also attract negative energy and transmute it back to positive. This makes it quite suitable for those looking for products offering  protection from negative energy such as found with cell phones and computer radiation.
 How Orgonite helps with EMF Protection
Orgonite pieces produced by Earthlights Jewelry are cast to wear as beautiful jewelry, stand alone pieces for home, plants and garden pieces and EMF protectors designed for use with your cell phone/electronics.
Created specifically to help block this type of energy, the pieces all have a unique ingredient called shungite – one of the world's oldest carbons. The discovery of its molecular structure became a worldwide sensation a few years back when it was found to be made up of hollow spheres known as buckyballs or fullerenes. It is believed that this atomic shape makes it possible to absorb and reflect electromagnetic energy back out, thus creating an ideal filter or shield. The addition of grounding stones like hematite, sodalite and powdered metals further enhance their EMF blocking ability.
EMF Protectors are easy to use by simply placing on your electronics, wearing jewelry pieces or placing stand alone pieces in your workspace or anywhere you want to block the EMFs. They are self-sufficient and never need charging. And as a nice extra, my beta-testers reported that their EMF-Pro cell phone buttons seemed to make their batteries last longer!
So in answering the question about what can we do to protect ourselves from EMFs, there are three simple steps. Reduce your exposure time, unplug/turn off devices when not in use and try some orgonite.  Making the choice to take care of your health has never been easier.
For more information or to order these products
EMF Protectors come in a variety of sizes and shapes ranging from cell phone and electronics buttons to wearable, elegant jewelry containing Herkimer diamonds highly conductive 23karat gold which reflect negative energy away from the body. There is also a limited amount of palm-sized positive orgone generators.
Please visit Earthlights.ca or the Earthlights Jewelry ETSY store:
Dont forget to like my Facebook page for information, specials and promotions!
About the author:
-Tanya Kucey DCH, VOA  is an accredited Homeopath, designer and creative info-lanthropist located in Qualicum Beach, BC.
If you wish to explore more about the process, technical or historical information about orgonite, you can contact here at info@earthlights.ca or check out the FAQ on Earthlights.ca
Just my thought… (Heather)
I don't know if this little jewel on my phone is working…..Bonus for me if it is.. I really like it and if I can do one small thing that might be good for my health, why wouldn't I?
You know it wasn't that expensive and I've decided I'm going to put those little jewels in everyone's stockings for Christmas.. I hope you've enjoyed todays story and I ask you to head over to Tanya's Facebook Page and LIKE her and support her on her Facebook journey.
Cheers!
Sources for this article include:
http://www.orgonite.info/
http://www.who.int/peh-emf/about/WhatisEMF/en/index1.html
http://www.earthcalm.com/what-are-emfs/
http://www.naturalnews.com/038595_electropollution_wireless_devices_EMF.html
http://www.shungite-anata.com/en/shungite/qualities.html
http://www.alive.com/articles/view/21873/wireless_technologies
http://www.cbc.ca/news2/background/tech/how-it-works/cellphones.html
http://www.naturalnews.com/038595_electropollution_wireless_devices_EMF.html#ixzz2mwv0wZMl
http://lifehacker.com/force-windows-to-use-your-wired-connection-instead-of-w-482614663
http://www.sammilham.com/