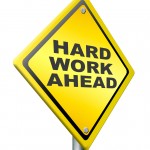 Who said it was going to be easy? Not me, I said it was going to be worth it, and just maybe a little fun.
Facebook for Business 101
If you have not taken the time to draw up a business plan for your Facebook Business Page… Then eventually you will begin to feel lost, in no time you'll get confused and maybe even give up… You must know WHY you're on Facebook…to understand your WHY will be one of the best brain storming sessions you could ever do for your business & social media.
Create SMART Goals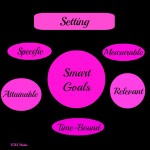 Example: KISS Media  ~ Keep It Simple Social Media
My number one reason to post on my business page is to HELP business people with their social media. To extend a helping hand and bridge the distance between technology and social media so they can market their business on-line.
I also want people to feel they have a resource that is an expert at social media. I want to make people feel good, and offer them a laugh every now and then.
My audience is primarily female, between the ages of 28 – 65 years young… They could struggle with using a computer, and understanding the value of social media. For the most part they are entrepreneurial and strapped for time.
I produce videos for them, write blogs and update valuable to do lessons that my audience can implement immediately. I try to Keep It Simple!
Second Step…
With your business plan in place you can now go about creating exciting, engaging content, always try to get people back to your Facebook Page, remember once people click your LIKE button under the cover image, they don't need to come back to your business page, they have just given you permission to send your postings into their news feed every time you post on Facebook.
When you can, lead them to a link in your posting that goes straight to your company website, and keep communication going in both directions… Cross-pollinate!
Now here's the big deal… I promote getting off your computer and getting Face to Face with people. Be genuinely curious about people and their business, make a point to learn how you could help them. Understand each of us have our struggles here on Facebook… yes it is LIKE a moving target…
I LOVE Facebook and what I LOVE is my incredible authentic community of serious business people… I am having FUN and YOU can too… Just stick with it, keep learning, try experimenting, never let Facebook out smart you, don't give up and keep asking for help when you need it!!
Cheers
My name is Heather Clifford and I teach hands on social media, helping to bridge the distance between technology and your success with marketing on-line.