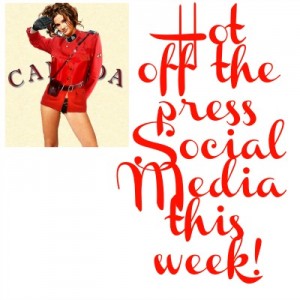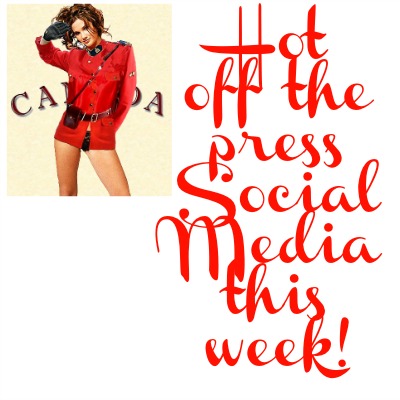 Do you ever wonder if there is a difference between Social Media and Social Networking? Social networking can be done in person and on-line. It is the word social we should define.. So what is social and why does it matter? Here is a scientific Wiki answer for you.
Social ~ The term social refers to a characteristic of living organisms, also refered to as populations of human beings. It always refers to interaction with other human beings and to their collective co-existence, irrespective as to whether they are aware.. or not..even if it is voluntary or involuntary!
So why is social networking so very important? It has been around and recorded on cave walls since man's first inscriptions were found… just like in the cave man era..women have always led the charge on conversations around the fire, kitchen, or at the PTA… (Parent/ Teacher).
Today the fastest growing demographic in social media are people over the age of 45 years old … with no surprise that women are leading the pack…
Women however are social by nature… we can't help it. When I teach a workshop I always ask the students to have a look around.. and help the one or two men in the class to understand how to be more social than selling when producing content … Don't be offended if you're reading this and you're a man.. I was told by a few men followers that it was the graphic that caught their attention…Gotta appreciate honesty!!!
More women than men love to exchange personal stories and successful social media is all about telling real life stories..Remember back when social media was first coming about… It was a man (men) that first created it as a means for dating!
I have been running a little experiment since my dad said to me he always sees me online (Skype tells him)..I tried to explain to him that a lot of my work is created by me being on my computer, and I am really just talking to live human beings.. it's like a virtual meeting.. isn't this what e-mail is?
Social Media is people talking to people..using time more efficiently, saving the environment from pollution because we're not driving and building a foundation of trust through community…. Yet when we need someones product or service we hop in our car, walk or cycle and get face to face..I personally love to set up coffee meetings even when I'm not in the market for someones product..
The idea behind my experiment was to document how many people I put my business name in front of in one week………… how many interactions I participated in and how many people reached out and said hello to me… I am social… I can tell you this much.. It is possible that I have reached in one week well over 20,000 people…Documented
Blog Posting: 700 people
Twitter handles 4000 people times as many posts as I've made
LinkedIn is anywhere from 2000 – 6000
Facebook's Reach on my Business page alone in one week was nearly 5000 all natural..no $$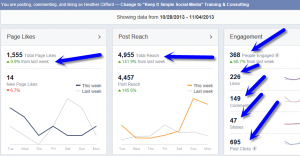 Insights Facebook
Now you and I both know it doesn't matter how many news feeds you appear in… What really counts today is how many people SAW your business and know who you are… and in turned LIKED what you said enough to engaged with your posting… that is the real number to focus on… so while I'm possibly hitting over 20,000 people's news feed in a week… which I could never accomplish Face to Face , what I want to do is analyze the people who have had an interaction with me…. the social beings…
I also cannot discount the fact that my name and company were present on the world-wide-web… I am proud of my social footprint, and in time it should revert back to customers by word of mouth, referrals and immediate exposure…then it will be up to me to provide honest, trust worthy, professional business service…
Facebook is my training ground for new social media peeps and people who need to ask questions and have a sense of community on Facebook…I love my Facebook page and how it makes me feel of worth with all the noise on social media.
LinkedIn is where I go to talk with other professionals that might not LIKE my Facebook business page.. I have created a data base around a sphere of influential connections, within this community of people I can way in on conversations wearing a different hat… business hat… yet I am still me…Heather
YouTube is where I produce all my training videos for my students and once in a blue moon shoot a video for my family…my subscriptions are growing, yet I still have not really created community…
Pinterest is more of a dabble for me…LIKE my Google+ account…and Twitter gets only a little attention for now, even thou I am there everyday. I try to cover the MOST eyeballs first..
I'm only human like you… we have the same 24 hours… I only make money when I'm NOT on my computer….yet I need to be on my computer or smart phone to market my business..everyday… we make time for what we believe is important.
This WordPress blog is where I take what's in my head and share it with you..my readers.. I look at the questions people have asked me on my business page each week and try to create value in my writing…. If you have a particular question or concern with social media..why not ask me here..
How many social networks are you managing and can you keep it up? I try not to add any unnecessary pressure to my life and get around to everything with consistency and personality… sometimes I fail..Fail..who's grading me?
Never make using social media a chore.. you must enjoy the journey, everything we do on-line is transparent.. it will appear in your writing and postings if you are doing social media because you have to!
Here is a little factoid for you ~ Social Media has taken over PORN for the number one activity on the world-wide web..WOW!
Cheers
My name is Heather Clifford and I now live between Whistler and Vancouver Island.. I teach and speak on social media for business and offer a hands on approach, helping you to bridge the distance between technology and being found on-line with your marketing efforts. 250-668-3310