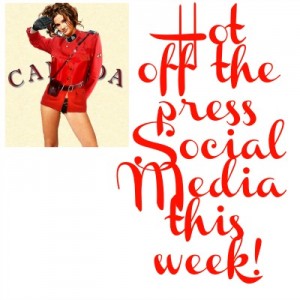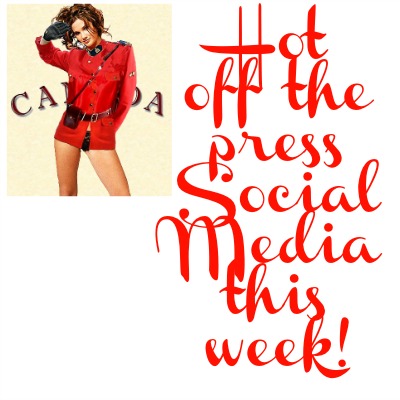 Just because you set up a Facebook Business Page last week and the product is not flying off the shelf this week, does not mean your social media is not working. Did you sit down and formulate a business plan?
Don't tell me you never created a road map for your social media success…Guess what? Most business don't have one… but let's just say you did and you still can't seem to get this new marketing machine to work for you. Life has way of changing every time you think you've figured it out…and social media is no different, it continuously changes… for the better…. you will need to keep your finger on the pulse…
I'm curious, how do you know your social media is not working?
Because this is a blog I would LIKE to give you a few ways of monitoring your social media so you can improve in the areas that are not producing the results you're looking for.
All social media will be the same in a lot of ways, if no one is talking to you, responding to your postings, updates or Tweets.. in other words, sharing, liking, commenting, retweeting… then it is safe to say.. your approach to social media is not working…Be honest with yourself.
If everyone is telling us social media is the new marketing tool… then we need to figure it out… I always say, "We don't know – What we don't know"
First Questions to Ask
#1. Why are you using the social network you have chosen? How many eyeballs are using it..In your local area?
(If your business is selling product on-line – your questions will be answered different/adjust accordingly)
#2. What is your over-all goal… what is your message going to be.. what are you going to say, how often?
#3. What is the approximate age of your audience, are they male, female or both?
#4. Where does your audience live?
#5. Who buys your product? Don't simplify here…
Once you can answer these questions you can start to create content that speaks to this specific audience..it now becomes methodical & strategic. Keep this in mind… a person who is 50 years old will speak and hear things a little differently than someone in their 20's…
I am using social media to connect, educate, and communicate with my followers. I want you to know I am here for YOU.. If you have a problem, question or a suggestion about social media… I want YOU to feel YOU can come to me for the answer.. I am also here to enjoy the journey, have fun and hopefully put a smile on your face… Simple!
I am using social media as my marketing vehicle because I know people are accessing social networks more today than any other means of communication. I can reach more people, faster and more strategically targeted. I am advertising my business to people who care and want to receive my content. It is permission based subliminal marketing. I know EXACTLY how many people are in my chosen geographic location on each network, I know how old my audience is and of what gender.
I use mobile friendly methods of communication.
Indications social media is working
If I post something and no one clicks anything, I know NOT to do that type of posting again… I know not to SELL to my audience unless I have something very special… One in ten postings is Selling.. ALL other postings need to make my audience smile, or say thank you Heather I did not know that, or WOW that is awesome information…
The hardest part of social media is to entertain your audience, especially when you're a professional and your product is service… or is it? I challenge you to step out-side the box on this..contact me privately and we'll brain-storm together… I love a challenge!
I often feel bad for assistants that are ask to do the social media for a business and the person in charge does not understand "Social" media and is micro-managing the content.. usually these businesses fail at social media. You too can contact me privately if this is happening to you…
kissocialmedia@gmail.com Heather
It is also good to remember what might have been working last month, has now changed and going back to the drawing board well pay off… Your metrics (Insights) should go up and down weekly.. but…don't over analyze your marketing efforts… If you notice no one is talking to you or engaging with your posts… It is best to change your tactics…On your page you can follow your PTAT (People Talking About That) this is a great indicator if things are working…. Anyone can see this metric on your page located just under the cover image.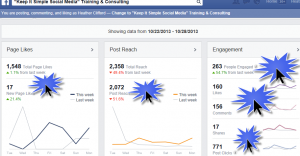 If you have more than 30 LIKES on your Facebook Business Page, you can view your metrics in your Insights tab..filled with rich valuable analytics. If your Tweets never get a mention of retweet or if your links never get opened..it is time to rethink your content.
You see today we need to think more like the consumer.. talk to people as if they were standing in front of you…guess what, you are a consumer.. think about what you like and dislike about social media..
Remember to ask people how they found you, did you see us on any social network sites..and if not, ask them to follow you, ask your customers to post content on your wall of them using your products…or to mention you when Tweeting…In most cases they LOVE to do this.. In today's world we expect results immediately, I'm sorry to tell you this but social media is a journey with no end in sight. It takes time to build community, nurture it, and understand your audience. Keep the communication going in both directions, monitor, measure and keep an eye on your results and adjust accordingly… Think of social media as Relationship Marketing and Social Selling… two new buzz words you'll be hearing a lot about in the coming months…
Cheers!
My name is Heather and I work and play in beautiful British Columbia.. please follow me on my social media networks and ask me all the questions you might have regarding social media…It is my goal to help you succeed on this exciting journey!!