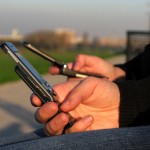 Doing Social Media from your smart phone needs to be simple, right?
In most cases like anything in life we need to learn how to use the new technology first before it can become second nature. It is the learning curve that takes just a little time… the more you use something the easier it is going to get.
You might be saying Heather ……I am busy enough and I just don't have time to learn anything new…  we have been saying these same words for years… but things just keep getting better..
I love to show my students how using their smart phone can in fact save them plenty of their valuable time.. but only if your phone is set up to optimize your personality… what do I mean by this? You can set your account to feed you desirable postings.
Lets talk about LinkedIn first…
LinkedIn
We know that when you use LinkedIn you are wearing the hat of a professional.. but that doesn't mean your updates need to be boring or 100% focused on your business, yes they need to be professional but they also need to be interesting.
If you think about the person on the receiving end of your posting, realizing that they too are looking for inspiration and knowledge just like you.. you might find it easier to understand LinkedIn….
You can set your LinkedIn app to feed you inspirational, valuable postings that you in turn can share with your connections everyday in less than one minute. I'm wondering are we connected? Heather Clifford
Four simple steps ~ once you down load the app.
1. If your app does not display "News" on your Home page click "Add shortcut" located at the bottom of your main page choices
2. Now click on News
3. Next, look up to the right side of your iPhone (just under the battery usage) you will see three bars, click here
4. Choose the categories that most relate to your personality. You'll now start to receive interesting postings and blogs that might excite you.

Ok now you're set up on LinkedIn, to get started spend about 5 minutes every other day commenting and reading posts, click the rounded arrow to share the blogs you like with your own connections and always say something appealing before you share…try to grow an influential data base of professional connections and maybe join a group or two and weigh in on the conversation… I like to do my LinkedIn posting first thing in the morning..before I roll out of bed actually…I love to start my day with Inspiration which I find on LinkedIn..
Twitter
I set Twitter up through the Hootsuite app on my iPhone and do all my posting from there, I set up my city in the search bar as a #Hashtag so I can see who's talking about #Nanaimo when I have a spare minute of two… I RT ReTweet great Tweets and often share a quick "check this out" posting when I'm on the fly… like yesterday when the Snowbirds flew over at mach speed…barley got the photo… I can schedule posts, use photos, see my retweet and mentions and pretty much do everything I need to do on Twitter right from my iPhone..
My iPhone also had the Twitter app already loaded and ready to go when I bought the phone…..I don't need it but I have it.
I have two Twitter accounts and it is more work then I need…. however the option to merge the accounts is still not available on Twitter… at one time when I was Tweeting during the 2010 Olympic and Paralympic Winter Games I had three account!!
My Facebook Business page is Linked to Twitter so when I post on Facebook twice a day it feeds directly into my Twitter account and the same goes for LinkedIn.. but I also add a few of my own organic Tweets throughout the day…. Variety!!
@KeepItSimpleSM
@HeatherClifford
Facebook
I rarely use Facebook on my iPhone except from my personal profile.. however I do have the Facebook pages app downloaded and I do review it when I'm out and about… rarely would I post from my iPhone because I like to customize all my FB postings. Facebook still has a little work to do on their business page app before I will use it…
YouTube
Once in a blue moon I use YouTube from my iPhone.. but primarily from my laptop computer.
FourSquare
100% from my iPhone.. Love it!!
Messenger app ~ Always
ReBlasts from RESAAS ~ sometimes (not often)
Pinterest ~ No time from iPhone only laptop
Dropbox ~ Always
Bonus Tip
One thing I do is take pictures of my screen when I find awesome material I want to save for later or customize for my own networks. I could be on Twitter, LinkedIn or Facebook it doesn't matter.. I'm always looking for great content to share…. I do this simply by holding down the navigation button in the bottom middle of my phone and the on/off button at the same time. Quick click, takes the photo of your screen.. Just takes a few practices to get this down..
Here is my advice.. pick one network, download the app and get friendly with it.. I think you should pick LinkedIn… by far the value I get from this network is well worth the time it takes to understand how to use it.
I truly wish you much success venturing into the smart phone for social media arena and promise you it will be worth your time.. I really enjoy the ease and simplicity ….If you run into any problems please ask me for help directly on my Facebook Business Page wall "Keep It Simple Social Media"
Cheers!
My name is Heather Clifford and teach hands on social media, helping business people utilize social media for marketing on-line. Holding the hands of the many that can feel intimidated or confused by social media yet understand it is a valuable tool for todays marketing efforts.