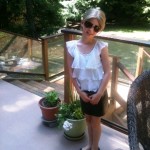 This isn't a game for kids
She might be cute and have incredible Internet savvy fingers but experience comes with age.
Everything you've done to end up where you are today is a result of the decisions you've made along the way. The books you've read, the people you associated with and all the studying, traveling and hard sweat it's taken… With that comes a little knowledge and a whole world of value for your customers. There is absolutely no way another person can be you… Now they can take your direction and try to capture your passion, but it most certainly takes your involvement.
I'm not saying that a teenager or younger person can't help you, if you have the access to tech savvy youth, grab them and get their help…what I'm trying to get across is they cannot articulate your business experience and expertise like you can. This of course depends on the type of business you're in … I'm speaking more to the small business owner who is not catering to a younger crowd.
On another note maybe your client's are of the younger generation, and if so they would be perfect to run your business page, although you still need to be actively involved. Now having said that you cannot micro manage either.
If you're a real estate agent, home renovator, builder or even a boutique wine merchant you need to ask yourself how old is my general customer… that is the audience you're looking for to LIKE your business page… Once they have LIKED your page they'll need to be able to relate to your postings!
A personal profile on Facebook is not like a Facebook Business Page although having both gives you a double social footprint. Your personal profile is a closer look into you as a person.. the name itself gives it away "Personal Profile" Just something to keep in mind.
I can tell within seconds of landing on a business page if it is being managed by someone besides the owner of the company or the independent contractor. Usually just looking at the LIKES tells me some very valuable information about your page. ** Anybody can look at your LIKES, this includes your competition!!!
Age Demographic – Talking About – Location
You need to decide if it matters to you. Your business reputation is in the spotlight today when using social media so running a professional business page is becoming very important.
Once you decide to market with Facebook and start paying for ads or promoting posts you don't want to be wasting money and time marketing to an age demographic that cannot afford your products or service' or in an area that is outside your local market unless you also sell on-line products.
Cheers!
Hi my name is Heather and I live in beautiful Nanaimo BC where I teach hands on social media to business owners wanting to utilize the power of social media for marketing their business. I am a speaker, consultant and trainer who travels throughout the province helping people to bridge the distance between technology and utilizing social media as a new means to market on-line. 250-668-3310