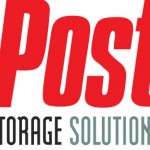 Two Things Could Be Happening
1. Yes it's true the person or business page you have decided to follow could be posting more than once…one post right after another. This way of using "Facebook" is frowned upon. Let me explain why, when you go onto your Facebook personal profile you land by default on your news feed, this page is where all our friends and pages we have LIKED feed their content into, in order for you to see what's going on…. If you are posting one post after another, you are taking up a lot of space in peoples news feed and they can't get to other postings without going through yours first. This is annoying and also known as shouting, blah blah blah… Remember..it's not all about YOU anymore. Our lives are busy and less is more valuable..
Think of it this way, if content is King, then engagement is Queen and she trumps the deck… unless your posts are getting any traction (likes, comments, shares) why not try posting once in the morning and once in the afternoon… One – Three times a day, at different times is plenty for Facebook…Facebook is not LIKE Twitter….Tweet – Tweet – Tweet
2. This simple truth came to me during  coffee with one of my students, he said to me that every time he goes on Facebook all he sees are my posts, boy "Heather" you must post a lot.
 Wow Wee I thought…I don't post a lot…maybe once or twice a day…Morning and Night or at least 4 hours apart…. Please don't unlike me! What is happening in this case is "John" has a separate Facebook account (Fake) just for his business page… he doesn't use it, so when he goes onto Facebook he lands on his news feed where he only has a couple of friends and a couple of business pages he has liked. Therefore it appears that "Keep It Simple Social Media" is posting all the time… because 1. He doesn't go on often 2. he has no friends. John only needs to read the fainted print under each posting to see when it was actually posted…
Facebook is a well oiled machine that is big business , it is utilized by many strictly for pleasure. This incredible marketing machine has created an  arena of eyeballs known as " subliminal permission based marketing"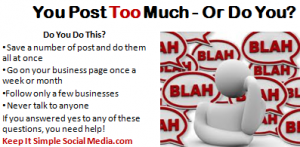 Cheers!
My name is Heather Clifford and I live in beautiful Nanaimo ..I teach hands on social media clinics through out this gorgeous province.
Twitter – Pinterest – Facebook Business page – YouTube – WordPress Blogging – LinkedIn – FourSquare
I am a social media trainer, coach, speaker and consultant..Is it time for you and your business to get social savvy? 250-585-6002 Let's talk.