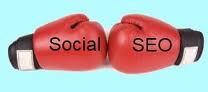 It Comes Down to Two Things – Knowledge and Time 
Social Media & Website Optimization today work together, this is really good news; unless of course you're still not social savvy.
We all have 24 hours in a day, the difference is in what we do with the time we have. You might be thinking it's time to incorporate social media into your marketing plan & I couldn't agree more, but first you need to build your networks in order for them to optimize anything.
The great component with social media are you can tie them all together and certain types of social media create content for your other networks. Video for example builds your YouTube SEO (search engine optimization) and can be used to feed your other social media sites with content – you can set up social links to these networks on your website thereby making your website more engaging.
They use to say a website is static which means no one can interact with you – not today, if you add your social links you build a road way to communication and information.
If you blog from your website you create more traffic into your website especially if you understand key word rich phrases or you have guest bloggers and link back to their websites.
You see Search Engine Optimization just became a little friendlier now that we can add our social media links to our website – Google changed the way they did business a few years back and started including social media in the SEO component of a search through Google. Today Google's algorithms are set up to drive more traffic to your blog or YouTube channel if your content is valuable, useful and searchable by your audience. Much of the information available today on the internet is driven through social media sites.
Today you can still pay to have your website optimized and if you can afford to do this it is a good investment. It is relatively inexpensive to have a website audit, which can give you valuable information.
I do suggest however you integrate some social media vehicles that increase page rank and traffic to your website before you spend the money to see if you're being effective just yet.
Make sure your social media icons are on all pages and linked right to your network for easy to use connections.
Get on your social sites and build trust with your followers, help solve a problem and for goodness sake, let people know you know they're there… social media is a two-way street that enters the highway of information, it's going to be up to you if you drive in the slow lane.
ps. It sounds LIKE Google is calling the shots – Do you have a Google Footprint?
Cheers!
My name is Heather Clifford and I live in beautiful Nanaimo BC – I teach hands on social media, I am a social media consultant, social media marketing manager, and a social media speaker. I teach and use: Twitter – Facebook Business Pages – YouTube – WordPress Blogging – Google+ – LinkedIn
I travel through-out this gorgeous province teaching my simple social media clinics ♥