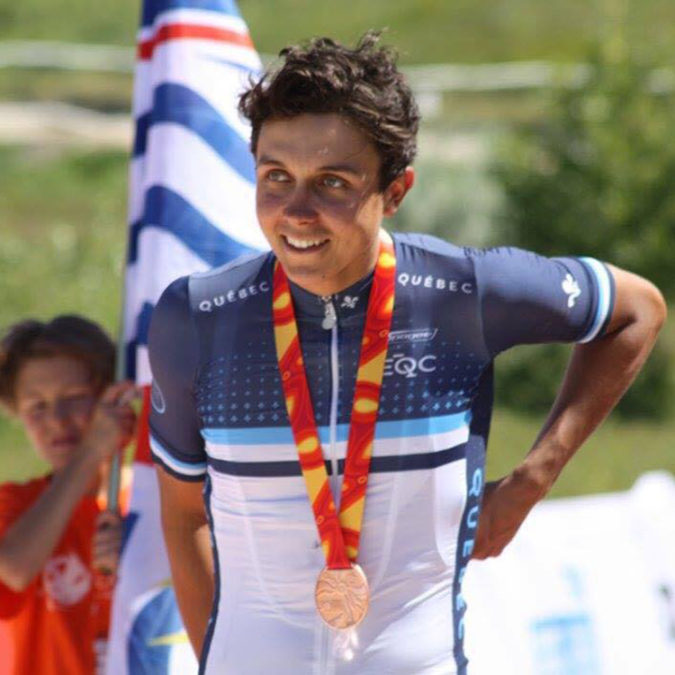 Felix is a member of the Canadian national team, an athlete on the Rocky Mountain factory team and a commerce student at the University of Victoria. He has blended his passions for mountain biking and business by launching his own start-up called Trail Trybe (www.trailtrybe.com), an experience focused company that consists of three-day mountain bike camps for kids between 9 and 15 years old.
Felix has a wicked Instagram account and a good blog.
Website www.felixburke.com – Instagram felixburke.1 + Trail Trybe Camps  – Facebook 
Quick note about Social Chats. Social Chats is a weekly live show that we put together to help small businesses learn from great people who stand out in their industry. What they do works well with social media and we hope you this will keep you educated and inspired! View all social chats here: http://bit.ly/YouTubeSocialChats
TOPICS OF THE DAY ✨
1- University student, pro athlete, blogger, social media enthusiast. What do you do to be efficient at it?
2- Software, photo editing sites
3- Social media and getting sponsors
4- How do you promote brands on your social media
5- What social media platform or online tool (website, blog) is the most important?
6- goals for 2018 & the story behind story behind our cover image.
Key points below, full YouTube Interview here:
1- Felix you are obviously a super busy guy meanwhile you find the time to have write a blog and be active on social media (in French and English). Most people say they don't have time for it… Q. Can you share some time-management advice?
Felix – Social media is something that doesn't come naturally to me. I'm working on it. To be efficient I think about a story I want to tell in advance. I use Instagram and I think about a good caption. I shoot a photo that works with it.
2- Do you use any software or photo editing site? What's the deal with using photos that people have taken of you (pro photographers).
Felix –I have friends with good phones/camera who take photos of me riding and send them to me. I use the Instagram editing tools. I also use Adobe Lightroom.
…You must respect pro photographers. They are crucial for skiers, bikers, less traditional sports. Make sure to thank the photographers and build a good relationship with them. Find out who is shooting at the event, go visit their galleries, ask if you can use their photos or if need be, buy them. It's a mutual relationship. GIVE credit. Don't edit the photos from pro photographers. Don't filter them.
3- As a pro athlete you probably should market yourself to get sponsorships.
Do you feel like companies look at your accounts?
Do you think social media helped you get sponsors?
Felix – As a pro athlete you are an ambassador for a brand. Companies will look at your exposure on social media, they will look at your accounts and consider the exposure. But overall it is about who you are in real life. You should be genuine. You should be the best ambassador you can, even if you are tired, you should take the time, the extra energy to care about your team and People look up to you.
4- Do they ask you to promote their brand on social media in return? How does that work?
Felix – I'm lucky, I share values with the brands supporting me. It is a natural extension of who I am. Rocky Mountain has great hashtags … #lovetheride #inyourelement #trustyourinstincts #xcinbc
5- Recommendations for young athletes (3 things).
1- Be yourself. The biggest thing I have learned is to be authentic. Try to give back.
2- Reach out. Social media is a great tool for that. Use social media to attract the attention of sponsors. This will help you get in the door. Then it is when they meet you in person that they will decide to sponsor you or not.
3- actively share your story. Inspire people with your story. The adversities, the work, the challenges. That will go a long way.
6- What social media platform or online tool (website, blog) is the most important for you and your business (Trail Trybe).
My website is something I update once or twice a year. Early season I do a revamp, add the sponsors, add their mission, logo. I add new photos and race schedule.
The trailtrybe.com website is something I put a lot of effort in. It is a resource for people to sign up. I use Wix and GoDaddy.
*please note that these are tips and takeaways are from an episode of Social Chats that was originally recorded on Facebook Live on September 25, 2017. What does Live mean? LIVE means our viewers where able to get involved while our guest was in the studio, and ask questions. You can watch the replay on our Facebook Page, ask questions in the comment field and we will make sure to answer them in a timely matter.
View all social chats here: http://bit.ly/YouTubeSocialChats