Social Chats Episode 17*
Special Guest Andrea Wing Manager, Video, Film Creative for Lululemon Athletica – director + cinematographer + fresh air enthusiast www.andrea-wing.com
INTRO
Andrea Wing is a director and cinematographer living in Vancouver, Canada.
Her directing approach has led her to work with international brands, producing global commercial content. Andrea also continues to create work outside of the commercial space, often telling stories that celebrate our natural environment.
Her work has brought her to the Democratic Republic of Congo, Kenya, Australia, Austria and all over the good ol' US of A.
Website: http://www.andrea-wing.com/
TOPICS OF THE DAY
1- Background
2- How to get prepared for a video shoot?
3- What gear is essential for people starting out?
4- Recommendation on software for movie editing.
5- What to think about and remember when you are shooting.
6- The story behind the famous photo of the guys with thousands of dollars of equipment, on a skateboard…!
#1 Background
Can you explain to us what you do these days with Lululemon.
Andrea – At Lululemon we have a team of film makers and creators to build the brand content. I also do freelance work for other brands, I just did a shoot with Audi last week which was fun.
#2- How to get prepared for a video shoot?
For people starting with video, what would you recommend they should do to get prepared? We talk to our clients about creating a storyboard, would that be something you would recommend? Suggestions before even starting to shoot.
Andrea – Get prepared before you start shooting! Otherwise you will pay for it in post-production editing. Have a storyboard to keep you on track and keep the cost down if you are hiring someone.
If you are shooting on your phone, think where it will go (Instagram, Facebook, length, landscape etc… Keep your videos SIMPLE. Don't cram too much! Maybe do a series instead of one long one. How to videos go super well on YouTube, could you do one of those? Solve a problem to someone. Keep it to 60 seconds to 120 seconds.
ALSO remember you will be interrupting people in their day to day lives so make sure you are providing good quality content. Do some research, see what's out there and maybe ask a blogger if you can use some of their content (always give credit). Create partnerships! Remember to provide value, to teach something to help people.
#3  What gear is essential for people starting out?
Most viewers will be shooting their own video with their phone, some with a camera (few). What equipment would make a big difference (light, microphone etc.) mini studio or portable…
Andrea – Invest in good sound! MAKE SURE YOUR AUDIO IS GOOD.
ex. Zoom mic (more advanced)
Heather – I use RODE
Andrea –  iPhone is good to shoot with, the quality is great. Make sure you are in a controlled environment with decent lighting.
#4- Recommendation on software for movie editing

If people want to try video editing, what would you recommend? Also, any format you feel works best for social media (Instagram, Facebook)
Andrea –  IMovie is a good way to start. At Lululemon we use Adobe Premiere (Adobe Suite). Also take the time to learn, watch tutorials, try things, make mistakes! That's how you learn. Try Linda.com. It's great, super pro site to learn how to use software.
WHAT IS THE STORY BEHIND THIS PHOTO ON YOUR INSTAGRAM ACCOUNT?!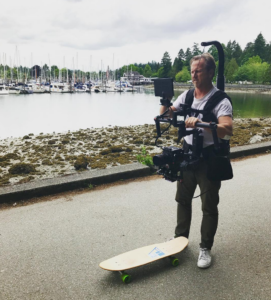 Andrea we were shooting on the seawall in Vancouver and we were not allowed to use cars or anything. He made it but actually crashed in Montreal!
See the Lululemon Video here:
Closing note ✨ Video is awesome but could you get away with a great image? We use video when we cannot convey a message with an image… Or with a great blog post for example.

*please note that these are tips and takeaways are from an episode of Social Chats that was originally recorded on Facebook Live on September 25, 2017. What does Live mean? LIVE means our viewers where able to get involved while our guest was in the studio, and ask questions. You can watch the replay on our Facebook Page, ask questions in the comment field and we will make sure to answer them in a timely matter.
Quick note about Social Chats. Social Chats is a weekly live show that we put together to help small businesses learn from great people who stand out in their industry. What they do works well with social media and we hope you this will keep you educated and inspired!