You might have already heard all about "Landing Pages" and how very important they are for social media, and to help with the marketing of your business online.
BUT you might not understand what they are or WHY they are so important… So let's start with the basics.
A landing page is the website page that you send people to when they click a hyperlink associated with a piece of content you have published. They "LAND"on this page…. an example would be a Facebook post that has text and then you add www.LandingPageAddress
It is our opinion that sometimes technical people have a way of confusing us to believe these pages are and should be separate from our website… taking us to a dark page, a LEAD PAGE or a sales funnel. In some cases when a business sets up a specific event or sale, they might consider creating a separate page for this purpose.
However for everyday social media what you should be striving for is driving traffic from social media to your website….
In our personal experience with our website, we would want the consumer to "Land" on the page we are referencing in our post, and then if they LIKE what they are seeing and reading, they can choose to move around to other pages within my website.
This is called a Click through page. If we just keep it simple and understand our goal is to educate the consumer about our products and service, which can be found on our website, it becomes a little less confusing for you as the business owner.
It is typical of most business people to want to collect a persons email address, so they can continue to stay in touch, keeping their business top of mind.
When you collect data or an email address from the consumer on your website, chances are they found you from the post you created on Facebook (Twitter, LinkedIn) that you added the URL to, which then lead them to your LEAD PAGE, obviously because you have now collected a lead.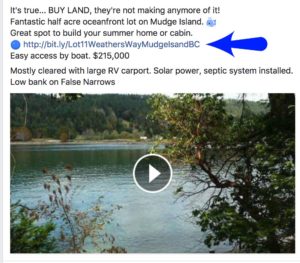 The great thing about this is you can reconnect with this consumer over and over through email.
When you set out to collect emails you'll want to create a post with the intention of offering something of value to your audience in order to get them to click the link and give you their email… an exchange.
Newsletter / EBook
Webinar sign up
Professional service consultation
Gift
Free Trial
Contest entry / coupon
WARNING: People do not like landing on a page that has nothing to do with the original post, and the reason they clicked the link to start with.
So why the big deal about Landing Pages?
YOU do not own the social media sites you're using everyday, they are what is known as third-party, which means you could wake up one day and not have your Facebook account any longer, THEN WHAT WILL YOU DO?
You basically own two things… Your Website and Your eMail database. You better be sure your website is FABULOUS and functions well on a smartphone… and your other goal should be to continuously collect email addresses, thereby growing your database 24/7.
Facebook is really trying to keep your business on their website by adding "Events – SHOP – SERVICES" tabs and anything else they can think of… and YES we NEED Facebook because they have a captive audience of 2 Billion eyeballs… or I guess it's really 4 Billion… ha ha.
Landing pages are amazing and we use them for all our postings… BUT it comes down to having a TOP NOTCH website, one with rich information and overall valuable content… and that is what you are promoting on social media…
EVERYTHING COMES DOWN TO YOUR WEBSITE!
Heather and Catherine 💋