(Photo graphics created from GetStencil.com – First I searched their data base for a Christmas background, then I added my logo as Logo or Watermark – Double clicked on photo and added "Happy Holidays")
5 Christmas Marketing Ideas That Will Bring Your Business Some Joy
Christmas is the most commercial holidays there is.  People are inclined to spend for their loved ones, with no prompting at all.  This is why Christmas marketing is vital for your business.
In 2015, U.S. Christmas holiday sales generated over 3 Trillion U.S. dollars.
As a Canadian we spend on an average $766.
How much of that spending was in your cash register?
If you own a business, the question you should be asking is how can you divert some of the sales that will occur regardless, to your own business?
The way to do it is through Christmas marketing.
Here are 5 Christmas marketing ideas that will generate sales for you in both the short-term and the long-term.
 1. Create a Christmas Brand Image
Create a Christmas Facebook or Twitter cover that reflects the excitement of the season.
There is a reason why brick and mortar stores decorate for the major holidays. When people see the decorations, they are filled with holiday glee, which fortunately, includes shopping!
The brighter and better your window looks… the more opportunity you have to get traffic through the door!
Studies have shown that when customers are presented with two stores that sell the same items, they are more likely to walk into and shop in the one that is decorated for Christmas.
Think about this, how do you feel when you arrive at a friend or family members home over the Holidays, and they don't have a Christmas Tree, yet they do celebrate the Holidays.
Make sure your online presence reflects the joy of the season.
2. Include Gift Samples with Each Customer's Purchase for the Christmas Season
Include a small, inexpensive, sample of your best products with each customer purchase.  If you sell spices online for example, include a free assortment of exotic spices they might try.   If you sell perfumes, include some free samples of your new perfumes. If you sell real estate, offer a free calendar or home selling tips brochure.
You might have customers that always wanted to try some of your newer products but were a bit hesitant.  They'll love you for giving them a chance to try them and if they fall in love with a few, they'll buy full sizes.
At our local grocery store they always have samples out and sure enough when we try them… we buy them!
3. Run Contests and Giveaways on Twitter – Facebook – Instagram
Contests and giveaways are some of the more popular Christmas Marketing campaigns.
One company we saw on Twitter ran a fabulous campaign that included a handbag giveaway. All the followers had to do to automatically enter the contest, was to retweet the giveaway. Keep It simple!
What is awesome about this type of giveaway is first, everyone loves to receive free things.  Secondly, you end up with an army of followers retweeting your post which means, more subscribers and more sales.
On Facebook you can read the rules behind running Contest/Sweepstakes and in less than 30 minutes you have yourself a hook for new LIKES!
4. Give a Gift Card or Voucher
Did you know that according to studies, gift card holders spend 51% more than the value of their gift cards?   So offer gift cards!
You can promote them all Holiday Season long.
In order for this to work, the gift card should be one that can only be used at your online retail store or in person. For example, an Amazon card would not work in this regard.
5. Ask For Christmas Traditions, Tips & Hints
Engagement rocks.  People love to discuss their special holiday traditions, including recipes, how they decorate, etc.  Ask them for recipes for homemade cider or ask them what was in their Christmas stockings growing up.   Ask about unique family traditions or for traditions around the world. Everyone loves talking about Christmas traditions!
Every year I make a Christmas cocktail video and then I share it on my business page, use it as my cover image, and post it on ALL my social media networks… This Year I also made Shortbread cookies!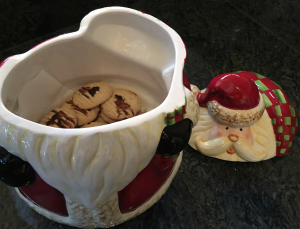 Christmas is a holiday that is filled with goodwill and good cheer.  Every business can tap into that good will with creative, Christmas marketing that will bring you new customers and retain the ones you already have.
There are also several companies that you can hire to run your Christmas campaigns, but if your budget does not allow for this, you can do it yourself and it doesn't need to be a chore… make it fun.
BONUS
We use the following photo editing sites to create our posts, many of them are still Free and have Free Stock Images you can use too.
Fiverr.com will create your campaigns at a price that is sure to work even on the smallest budget.
Canva – Picmonkey – Fiverr – Get Stencil
It's not too late to get creative!
Happy Holidays from KISS Media 💋