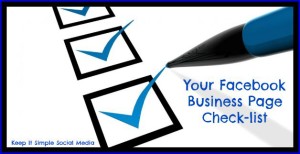 Every social network should come with a checklist of instructions for you to follow. This would make our lives so much more easy. Here is your Facebook for Business checklist.
Facebook Business Page Checklist
Creating a Business Plan for Facebook
The first step to success is knowing why you're even starting, knowing who you will be targeting, talking to & engaging with.
• Know your why – Know your audience – write it out – look at your past customers
• Discuss your direction with your team
• Be prepared to have awesome photography
 COVER IMAGE
• Engaging Likeable Cover Image 815×351 Pixel Size (Landscape)
• Do you have a Tagline or added benefits written on your cover image, put people using or enjoying your products ( Picmonkey.com or Canva.com is an awesome easy, FREE photo editing site)
• You can change this image whenever you'd Like, every couple of months!
• When you click on your cover image have you added a description with a link to your website?
• Have you added a location? (This is often missed)
PROFILE IMAGE
• Is it professional, this could be your logo
• Portrait style 180×180 pixels
• CTA – Call to action
• The profile photo and your Cover Image appears with every post you make on Facebook this is LIKE your business card online. (It forms when someone puts their cursor near your thumbnail)
ABOUT SECTION – DESCRIPTION
• Once again this is free real estate and a chance for you to optimize your search opportunities in search engines. Use key phrase words. Use all the space available. Use your website often add your phone number in the short description & your web address.
• Every space available should be optimized
• If you are in Real Estate use your cell number – make sure you add the company where your license is hung
• Click on "About" from your Facebook Page under the cover image. Click on Page Info.
• *** Do not use or touch Official Page
• Facebook gives you FOUR Free apps
• Photos, Video, Events and Notes
• Try to utilize them for added exposure
• Ask me how – Video is getting the most reach today – "Native Video"
Tabs in Your About Section – Page Info
Start Date
Facebook Web Address
Phone
Email
Website URL
Settings Tab
Profanity Filter – I set mine on medium, because when hell freezes over… It's OK.. but I don't want the "F" bomb on my page… EVER!!! (BTW – I know this works – one of my students tested it for me, on my page!
You should also check to see if your page can be verified as a local business.
I never touch Country or Ag e of restriction… However if you have regulations on age for your business this is a field you need to pay attention to.

 POSTING


• You can post once a day or at least three times a week
• Never two postings in a row – Every posting is searchable (Great SEO over time)
• Space them out

• Learn to

schedule

a post – There is a little arrow where the Publish button is, click it and see what else you can do!!

• It is said that a posting will last up to four hours, if it is good it can last longer
• Before you click POST ask yourself if it is Facebook worthy? Does it solicit an answer, make your viewer want to LIFT their hand to the keyboard. Don't just tell me something, get your audience involved.
• If your pictures are GREAT, it will make us click LIKE!
• Are you asking questions, asking for opinions?
• Are your postings FUN?
• Am I going to learn something I did not know?
• Try posting in a variety of ways: photos, basic status updates, Links and Native Videos
• Are people clicking LIKE or commenting, are they sharing your posts
• Can you get them back to your page to ask you a question?
• Are you sharing Ninja secrets, solving problems
• Do you talk to the people on your page?
• Let people know you appreciate them
• Do you add links back to your website on a few posts?
• Try a selling ratio of 8 valuable posts and only 2 selling posts
 OTHER STUFF Of IMPORTANCE
• Have you linked your personal profile to your business page?
• Have you secured your personal URL www.faceook.com/YourNameAndBusinessHere
• Is your new URL similar to your page name
• When you find other pages to LIKE – check and make sure their audience is worth your LIKE, Click their LIKE tab and have a look… investigate!
• Do I know who you are and what you sell? When I scroll over your business card?
• Have you put your Facebook logo link on your website, e-mail, bumper sticker, letterhead, promotional material, invited your friends from your personal profile, on your business card, newsletter, created your own e-mail LIKE campaign?
• Have you used the link on your business page to invite your friends from Facebook to LIKE your page?
• Actually leave your computer and visit the pages you have LIKED, get in front of new people and support each other
• See who has LIKED your page and the businesses and say thank you once a week to your new page LIKES. Write their entire names out. Link the business pages by using the @ symbol and typing their name, now when It pops up click on it.
• Use the Resource tab as a way of creating referral business – in your edit information settings.
• Click every arrow and highlighted blue link…see what they are for!!
• Find great pages that other people really like… you can tell by how many people comment and share their postings… write them in your Facebook BOOK so your competition does not know where you get all your ideas from. Now study what it is they are doing right!!! Recreate yourself and brand your business…

Advertising on Facebook

• You must try advertising!

 Never Boost a post from your wall – Go into the ads manager or Create an ad in the faded drop down arrow top right corner.

• Your best bet is to Boost your posts from your ads manager (Create an ad)
• Create a bitly link that is made from a URL from your website, now you can track better.
• Try sending people to you your website – decide which works better for you.
• Try creating Native videos – shoot from your phone and upload to your Facebook Business page.
• Experiment and always drive traffic OFF Facebook and to your website!!!!!!
REMEMBER – I am here for you if you have any questions. Just go to my Facebook Page wall and ask me your question. I will get back to you with a video helping you Step by Step!
Heather Clifford 604-698-9855