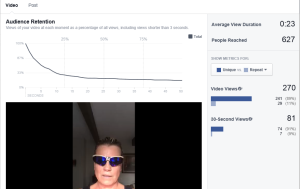 Using great photos on Facebook that are sized properly and that can tell a story with a glance, are still a very powerful way to showcase your products & services. However recently posting the new Native Facebook Video is proving to be the big hitter for getting your content into news feeds on Facebook organically.
What is a Native Facebook Video? Good question, it scared me the first time I heard the phrase… When you (I) don't know the answer to something today all you need to do is search the world-wide-web.
The answer:
If you take a video with your smart phone or a recorder and simply upload it to Facebook without first putting it on another video provider, such as YouTube or Vimeo for example, then Facebook refers to this as "Native" 
It's that simple and it is that simple to do….
According to "Social Times" – Native video is seeing the fastest growth.
i.e. Videos that are uploaded to or created on Social Networks and played in-feed. Opposed to links to videos hosted on another site.
Not so long ago, it was said that photos would give you the most reach into other people's news feeds, but as of February 2015 recording your own videos and uploading them to Facebook or better yet your Facebook Business Page, will get you further reach.
So "Keep It Simple Social Media" tested this theory….
My average reach on my business page without paying Facebook any money has been between 150 -250 news feeds.. not great when I have almost 2000 LIKES.. I would actually need to pay Facebook by doing an ad to garner any further reach … unless I had a super exciting post that was Shared, Liked and Commented on. This happens on occasion but not often enough for my liking.
Yesterday March 13th, 2015 I uploaded a video from my iPhone to Facebook (Native) and watch patiently all day as it was pushed further and further into the news feeds… some 600 news feeds… That in its self was fabulous…. but what really was shocking was the number of people who watched the video and didn't tell me they were there… Over 280 as I write this blog.. Wowzer!!!!
I've only tried the one Native video so far, but next week I will do two others and see how they do… I am now going to mix up the type of content I post, staying primarily with one or two photo uploads and now Native Videos.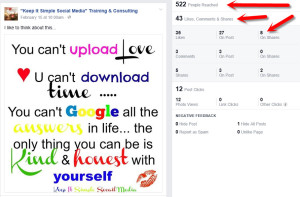 For my business page I have found basic status updates don't garner much activity and Links such as this blog are very low as well. People might not be interested in reading a long story when they are scrolling through their news feeds.
Having a variety of content for your fans is probably still your best strategy and making sure when people are talking to you on Facebook you acknowledge them by clicking the reply button.
If you have posted your own  Native Video to Facebook,  I'd love to hear how it did…
Until next time – Let's Keep It Simple!
Heather