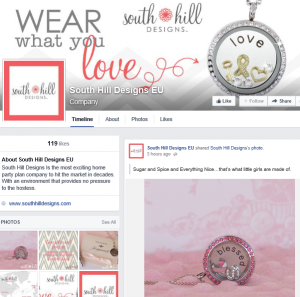 What you need to know
Rumor has it as of June 06, 2014 we will all have the new Facebook Business Page look. A few pages I admin received a pop-up notice from Facebook asking if they wanted to update to the new look now or do it later. Did you?
Facebook has been doing a slow release of the new design for the past several months. What does this mean for your business page? You shouldn't worry too much about these changes if you are already using Facebook personally, the look is very similar to your personal profile on Facebook.
The Four Most Important Changes 
1. You might need to ADJUST/RE-POSITION existing text on your cover image or pictures that obscure the new position of your page name on your Cover Image. The reason for this is your page name will now appear on the Cover Image. Before your page name was located under the cover image.
If you have been using your company name on your cover image, this would be a great time to remove it or change up your look and feel of your cover image. Think eye-catching and emotional, make sure your photo(s) are fabulous. Maybe try something that makes your audience smile, or tells a story to them. Fiverr.com did my cover image for $5
***Notice that the LIKE & SHARE buttons are also going to be located on the cover image.
2. This is REALLY important –  make sure your CATEGORY for your business is correct. If not go into your settings and change up the category. Soon it will be displayed predominantly under the page name on the cover image as shown in the example below.
How to change the Category on your page:
From your admin panel on your business page click on Edit page, now click Update page info. Three spots down (for me) is Categories, this would be where you change it to the appropriate related business you are in.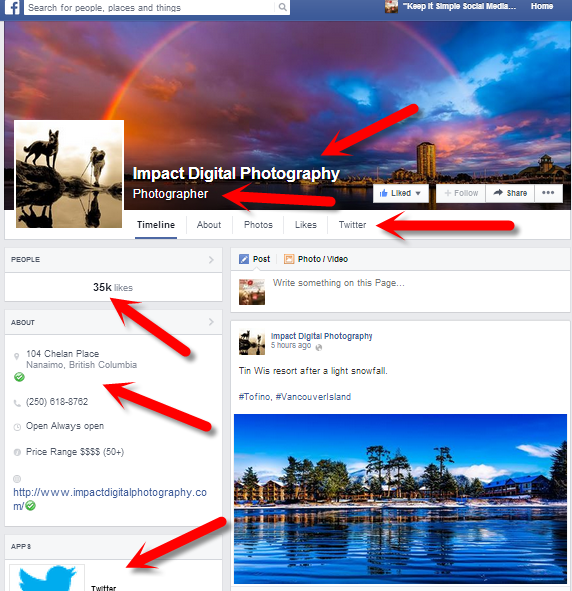 3. Your apps – Facebook has now made your Timeline tab appear first, followed by your About tab, Photos, Likes and then you get to pick a custom third party tab to be display under your cover image.
Only one tab will show along the bar, the others will now be displayed by clicking on the MORE tab. That is, if people are actually on your page. Most people are receiving your postings directly in their news feed.
Not great for many businesses that rely on people clicking these tabs. You'll need to do more promotions through your postings, driving traffic back to the apps. Which you needed to do already anyhow. I would suggest your selling tab (page) or opt-in sign up tab be the one you display first.
4. Timeline as it is so boldly brought to your attention under the cover image is of course the page your viewers will land on when they come to your Facebook Page. Once again the same as on your personal profile.
Your LIKES tab is the first hyper-linked piece of information. Once clicked on the viewer can find out information about your LIKES – Talking About – Demographics (age) of your Likes and Location of most popular city your Likes are in.
*****This area is very important to other pages that are looking to cross-pollinate with your business on Facebook.
Your about section follows the LIKES and it is a great idea to review what you already have and bump it up a notch for search engine optimization purposes. Remember to talk in Facebook language and write it out like a story. Make sure all your contact info is in place and add your website.
If you'd LIKE to check out a page that has the new look try Impact Digital Photography and say hello to Mike Thompson the photographer.
To me the new look is fresh and somewhat familiar. I think it stream-lines the feel of Facebook Business pages to be clean and more friendly. What do you think, do you Like it or are you getting fed-up with all the changes?
Let's Keep It Simple
Cheers!