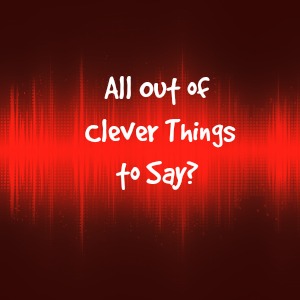 Trust me when I say you are not alone. Many of the people I work with are struggling today just to keep up with creating content for their social media. Many small business owners cannot afford to hire a third-party company to source their social media, and in most cases that would be anything but authentic.
Here is a list of some Ninja tricks of the trade that I have stumbled over in my years of training other people how to create postings that are engaging, entertaining and of value…   Most people do not have a degree in graphic design, let alone have ever taken any courses that relate to the new non-selling marketing… but today there are many useful websites and programs that can help us to accomplish the goals we set out. We all need help now and then. Let's have a look at a few ways you can create some of the BEST content on social media.
Useful content should be the core of your postings, but when you're on Facebook for example you'll need to learn to speak in Facebook language or you'll have no engagement.
Selling your products on social media will almost kill your page…STOP the selling!
#1. You need to know who your audience is before you can create content. Creating a visual strategy is key to your social media business plan.
Writing down who your ultimate customer would be, is your first priority on any social network. Get really specific, not just age, gender and geographic location. Ask yourself what these people do in their spare time, where do they spend their money, do they have children, do they ski, jog or eat out…do they love the theatre.. all these specific questions will help you create interesting content for your followers, but it also will help you pick other businesses you'll need to cross-pollinate with while utilizing social media. This is what they call "Psycho-Graphics"
#2. You need to know how you can help these people.. this is your clue about what you can say.
Be the hero, be the page with all the answers, be fun …be useful…be unique… be polite…be humble.. be authentic…be YOU… or… I like to say be sticky or sexy or shocking!!
#3. Make sure you have a few photo editing sites to help you create original content.
*Snipping tool (windows 8)
*Snag it (Techsmith)
*Canva
*Photoshop
*Pixlr
*Your own computer has editing tools
#4. When you see a great shot – take it!
#5. When you hear a great Quote – write it down
#6. When someone asks you a question about your business (their problem) – write the question down
#7. Make sure you have a file on your computer that you are putting all these little gems into…saving them for the day you just can't think or you're so busy you don't have time to be creative! My file is called "Awesome Facebook"
#8. When you find a business page on Facebook that ROCKS, this would be a page where the content is being Shared, Commented on and LIKED (a lot)… Write the page name down so you can revisit it from time to time for ideas…
#9. Learn to recreate content from your businesses point of view…borrow other awesome ideas. Add your own twist or theme… Notice I didn't say plagiarise!
#10. Listen more with the intent of helping others and then help them through the content you create on your business page.
#11. Use Picmonkey to write your own quotes – Brand everything you do with you name!
#12. Ask questions that solicit an answer…ask people their opinions about your product, show people LOVING your product.
#13. Speak honestly and with emotion… try it .. Speak in such a way that your fans love to listen and engage with you.
#14. Work with photographers… take one for lunch
#15. Learn to size photos – Size matters
#16. Go meet in person other business pages
#17. Blogs, magazines, the paper… websites. Information is everywhere around us. We just need to look at it from a creative angle.
#18. Be personal and let your audience know the person behind the computer…we're all human and have emotion.. tap into it.
I hope these 18 tips on creating content help you to get excited about your sharing possibilities with social media, you can always ask me for help at anytime on my Facebook Business Page.. this is a journey we are all in together.
Cheers!!