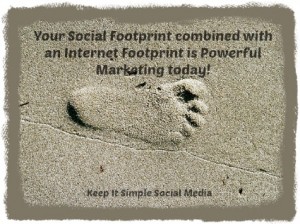 You can be found or your competition can be found, either way it is your choice today.
It does not matter if you think you are time starved, if you don't have a Social/Internet footprint you are way behind the eight ball. It is a hard fact to swallow but everyone should and can have a social presence and a website today… Your costumers are searching for information on the world-wide-web long before they head to the store, restaurant or book a hotel… When I search your name and company on Google will I find you, the internet is a powerful marketing machine if used correctly.
First a you MUST still have a website, or an upgraded website that is mobile friendly. Just because you're on five social networks does not mean you don't need a website. Did you know the only things you own today are YOUR website and your e-mail data base. So why wouldn't you have a website, you don't own Facebook.
Today you can build your own website if you can't afford to have a professional do it for you.
The Beginners Guide to WordPress Oh.. and it's FREE, not too technical, but it is time-consuming.
At least make sure people can get a hold of you by e-mail and telephone ~ Tell us about your products and services.. make sure you use professional photography and well planned script.
To create a further bang for your buck add social plugins.. set up accounts for the top social networks:
Now it's time to talk social:
I spend a lot of time searching out people and businesses on LinkedIn and I am surprised by what I find, or better written, what I cannot find. LinkedIn is the only social network set up for professional business people and companies. When on LinkedIn your mindset is completely different from Facebook or Twitter… You are wearing a professional hat.
LinkedIn is said to be the first place a person would go to search out information on you… It is like in some ways an on-line Resume.
Ask yourself how you look on LinkedIn, do you look professional, how does your business look? Many times people will say to me "I don't use LinkedIn"
Honestly, you don't need to be using LinkedIn, although today as a professional of any kind, you are expected to be found on LinkedIn if searched for.
You don't need to be using the network everyday like Facebook, but at least have an account and set it up professionally with an updated photo, summary and your work experience.
How you do anything is how you do everything.
You can easily connect your Facebook Business Page to Twitter thereby posting on Facebook and feeding that posting into Twitter as a Tweet. You can connect your LinkedIn account and post on LinkedIn and have it feed into Twitter as a Tweet too… Maximizing your efforts on social media.
Putting your business face out in front of your customers and competition will keep you top of mind for when and if anyone needs your products or services. If you don't have a lot of time create a schedule and share equally your postings. Don't sell.. we hate to be sold to, but LOVE to buy.
Slowly build your following, connections and fans and talk to them so they know you know they're there… your followers time is precious..
I hope this helps you understand the importance of utilizing social media for your business today and how you too can have a social footprint…and an internet footprint building professional reputation on-line.
Cheers!
My name is Heather Clifford and my company is Keep It Simple Social Media a place where you can go for help to understand and utilize the power of social media for your business. I welcome you to join me on all my social networks and reach out and ask for help when you feel lost.