UnLike ~ UnFriend ~ Same Thing ~ Gone!
Rumour has it the absolute worse thing that could happen to you on Facebook is to be UnLiked. Not just from a rejection point of view but because you've lost a valuable person…When people click your LIKE button this gives you permission to subliminally market to them each time you post on Facebook. This little Like is very important because 96% of the people who Like your business page will never make it back to that page… they will read your updates in their own personal news feed.
How much to post each day?
The answer to this question might solve some of your Unlikes. People do not want you filling up their news feed with all your "Important" postings. They have agreed to Like your page, don't take advantage of filling it with too many articles, pictures, sales, blogs ect…..
Do you know each time you post right after a post.. it's called double posting and frowned upon in Facebook land. You just told me the first posting is not important..
Why the UNLIKES
Some people Unlike you because of they've experienced poor customer service, or a Friend did… perhaps it's as simple as they don't need your products or services.
What if they've just stop liking your brand.
Maybe your very negative in your postings or you go off on rants.. some people just don't have time for this type of Facebook postings. Are you too political?
How about our news feed is too full of brands and not enough with my Friends which is why I'm on Facebook, to keep in touch with them..
My recommendation is 2 -4 posts a day… I only do two myself (How much time do you have)
So when is the best time to post on Facebook?
No one can really tell you (your business) what the best time to post on Facebook would be. How could someone from another state, province, or even country possibly determine who your audience is… Generally speaking if your Likes are business people we tend to have similar habits on Facebook.
My mentor Mari Smith told me the other day she posted at 11pm and this single posting has been her best in four years.. considering her page is connecting with a global audience this could make perfect sense… the better question would be to ask what time zone your audience is in? Maybe even what time they go to bed…. hee hee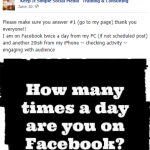 The only true test for you is to test different times of the day… what are you selling… how old is your audience.. Facebook is one big experiment in trial and error…I don't actually think there is a right or wrong way to do things on Facebook outside the common sense rules.
You will know if what you're doing is working by diving into the valuable Insights tab and paying attention to what your audience is doing on your page or what they click when it comes to each of your postings.
I ran a question on my Facebook wall last week asking my followers what time they went onto Facebook each day, unanimously the answer was 7am… It would make perfect sense for me to post every morning at around 7am….
Now here is the catch, we know a posting lasts approximately 4 hours, therefore I feel safe that my followers who are not on Facebook until 11am, will still see my posting.
Most people said they went on again at the end of the work day.. maybe around 3 – 4 pm.. this would be another great time for me to post.
This week I'm going to experiment with a posting at 8pm… Why not.. I need to know what this time of the day will do for my business page… I will let you know how it goes.
Cheers!
My name is Heather Clifford and I live on beautiful Vancouver Island in Nanaimo. I travel teaching my hands on social media workshops. I am speaker and social media consultant that does everything I teach.. 250-668-3310 Let me know how I could help you..