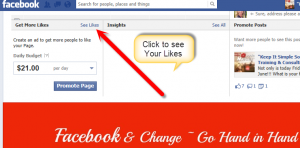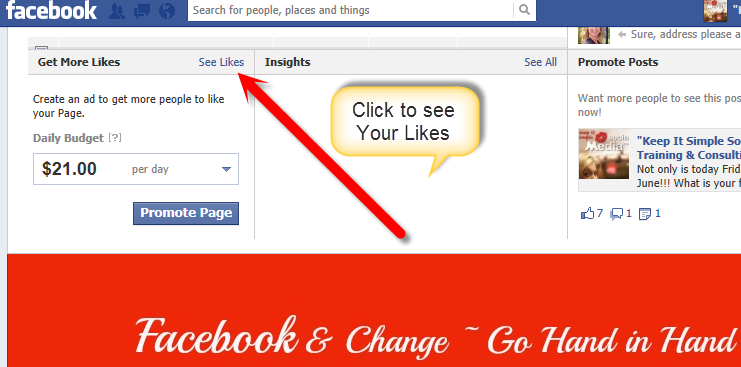 Sometimes it feels as if your LIKES are missing from your page!
Several people have written to me about Fans that go missing off their Facebook business page. They share with me that Facebook will give them the number of Likes on their page and when they go through each one looking at their new followers the numbers just don't add up… People are missing…. So…. Where are they?
Fans (LIKES) are the life-blood of a business page and you need to constantly be growing your following in order to build a valuable trusting community. When people go missing I can understand the frustration and questions you might have.
I am going to give you a couple of scenarios to consider and while Facebook is not a science we should remember that it is a journey to which the end is never insight…. You need to be serious about your business page but there also needs to be a limit to your madness.
Things go wrong, people go missing, the layout you've just learned might change again…postings even disappear… you probably will not get an answer back from Facebook in regards to many unanswered questions… but what can you do?
If you actually have the time to micro manage your Facebook Likes you will always feel as if something is wrong and that in-its-self can put you in a negative mind-set.
You cannot control this area of Facebook, all you can do is create valuable content that is engaging in nature and hope that your fans actually receive it and if they do, we desperately need them to do something… such as click LIKE or Comment or Share… we need our audience engaging with us.
Here is the cold honest truth, people usually like your page simply because you've ask them to, they might love your product or you posted something that caught their eye and they reached out to follow you… then they start receiving your postings and if those postings are not relevant to them or you post too much or worst yet your content is boring … UNLIKE!!
Yes people Unlike pages all the time, we only have so much room in our news feed and we don't want to waste time scrolling through postings that mean nothing to us… most people support their friends to the end but what if I don't really know you and your content is not what I like?….. bye-bye..
As more and more people get involved with the business side of Facebook, the amount of content that needs to be curated into a finite space in our news feed means, we'll receive less of what we agreed to see when we clicked your Like button…
Therefor it is more important today that you have a Facebook Business plan in place with the answer to your WHY in your mind at all times, posting just for the sake of posting with no real plan might not be the best strategic approach.. Ya sorry it's not pretty is it?
How do you know if you've been Unliked?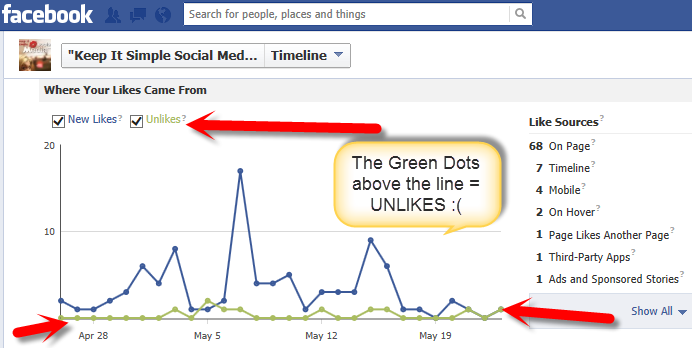 Facebook Insights for business pages is a rich resource of data which you can micro analyze to improve your presence on Facebook through understanding what posts your audience has engaged with the most.
It is also where you find the tab "Export Data" It will produce an excel spread sheet that is filled with statistics, one in particular to the far right is UNLIKES… no names just numbers… you can see it daily and weekly. It is here where you will find the truth behind your numbers.
Want an easier way to track daily Unlikes?
Go into your Insights Tab and click on Likes from here scroll down the page to "Where your likes come from"  See photo above.
The bad and sad news about negative Feedback on your page
When a user of your business page does any of the following activities Facebook deems it as negative feedback which can affect your EdgeRank which in turn determines your Reach.
Hide (The user clicks hide story)

Hide All (The user clicks Hide all posts from this page)
Report as Spam
Unlikes your page (worst)
Here are some statistics on what Facebook users click most
Hide Post 76%
Hide all posts from page 16%
Report spam 8%
Unlike page <1%
Today I'd like to dedicate this blog specifically to my friend in Whistler "Huey Tollett" who always has the best Facebook questions.. however he writes them to me privately and it is only when you write your questions on my Facebook wall that I can help everyone… Your doing a great job Huey and it is a pleasure to work with such a passionate young man.
Cheers
My name is Heather and I am passionate about helping you with your social media journey. You are welcome to ask me all your questions directly on my Facebook Business Page wall… Let's Keep It Simple!