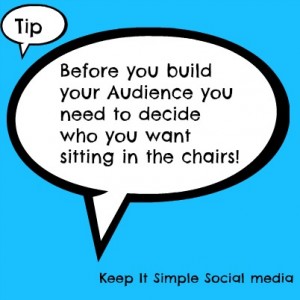 #1 Fans
Fans are the people who land on your business page and click the LIKE button or find your page through promotions, websites or links … they are without a doubt the life-blood to your Facebook Business page's success.
It is frowned upon to purchase your LIKES, however having hundreds of people who are not your target customer is not necessarily a bad thing in some strange way, unless their age is a huge difference or the country they live in prevents them from walking into your store or buying your product.
Here is another way to think about all those wonderful people who have clicked your LIKE button. If Facebook is about cross-pollinating with Friends of Friends, it might not be so bad if people like your page because they Like your product or what you stand for.
They might not be able to afford what you're offering or need your product or services at this time…..  here's the catch, if that Fan clicks any buttons on your page or postings…meaning they click like, comment or share your content, then their friends also have an opportunity of seeing your page name and what it is that fan liked, which is the content within that posting. It is almost like they are advocating or endorsing you. When they interact with your content they in essence are promoting your brand. Now that is COOL!
#2 Leads
You now have a captured audience who have given you permission to keep your business name top of mind subliminally through your content postings everyday. What you say every time you post is going to determine your LIKEABILITY on Facebook… If you nurture and appreciate your audience they will become your future Prospects.
How do you nurture your audience? You provide immense value by educating, entertaining and empowering all of your fans. You let them know they're important by interacting with them and talking in first person.
You hold the key to your success through the passion and knowledge you possess when it comes to your product, now you need to turn that knowledge into content for your business page…. stay true to your passion.
#3 Prospects
Your leads and prospects are completely different on Facebook, many of your likes will disappear over time as Facebook will only feed your content into the fans who keep interacting with your postings. On an average about 16% of your Fans see your postings.
Yes every once in a while a posting will get back into the news feed of a fan or through Facebook ads you can reconnect and extend your reach, but overall it is the fans who champion your page that become your true prospects. It is vital you pay attention to them and give them the value they deserve and crave. It is these fans that give your page it's "Talking About" and it is this valuable "Talking About" that creates viral exposure.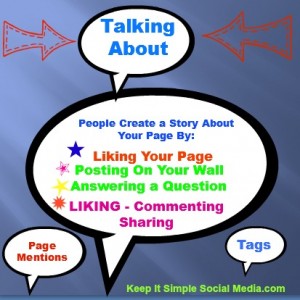 #4 Customer
How do you turn the prospect into a customer? First always remember the true nature of Facebook and why people are on this SOCIAL network… You should keep in mind that Facebook is an emotional vehicle and catering to emotions is LIKEABLE… Be respectful of your on-line community, this means how often you post, what you post and how you deliver your content.
Facebook is slowly becoming a shopping mall where all your friends are hanging out!
Once people understand your product and get to know you, they will not mind a little selling, it is completely acceptable to create "Call to Actions" (CTA's). You need to create commercial like postings with sale information so you can educate your fans about your product and services, especially when you have a big sale coming up… Those Fans can help spread the word.
A gentle nudge or offering is completely ok on Facebook… I have been using an 80/20 rule. Out of ten postings 2 might ask for a commitment or a sign up for my workshops… I will introduce new video downloads I have for sale or I'll update my cover image with an upcoming workshop. Sometimes it is just a simple posting or even an ad on Facebook.
If I feel my reach has dipped to low I will run an ad to increase my exposure. I spend very little money on Facebook ads but I do find them valuable when needed and believe they can can be manipulated to reach the perfect target audience.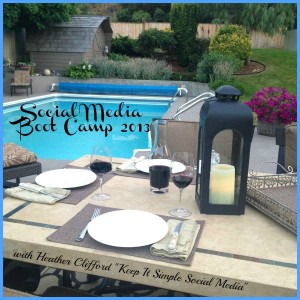 Some businesses have incredible products that they can be showcasing all the time, and sometimes having people using your product in a posting is the best testimonial there is. Every business is going to be different and working on a strategy for content will prove valuable to your existence on any social channel. I just called it a social channel because people tune into the content on TV and in most cases run to the kitchen on commercials.
Cheers!
Hi my name is Heather and I live in gorgeous Nanaimo ~ I teach hands on social media all across this beautiful province of BC. I am here to help you bridge the distance between technology and utilizing social media to market your business on-line.. I am a strong believer in community!