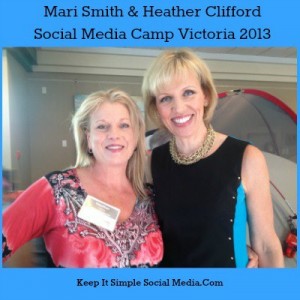 What was Social Media Camp all about?
 Social Media Camp 2013 in Victoria BC this past week was a conference dedicated to sharing knowledge, tools, tips, resources and industry secrets from passionate social media leaders. These experts were all emotionally charged and willing to give the attendees as much value for their time and money as they possibly could.
The rooms were buzzing with social sharing, laughter and the incredible opportunity to absorb crazy functional information from technology and social savvy strategists….. new apps, gadgets, what's coming next and what's not cool anymore. However I found the real learning came from Face to Face interaction with the people you've only known virtually and this included Fans from my own business page…. This was a networking event strategically organized to stimulated your brain into exhaustion…. Do the words unplug ring true to anyone!!
Here are a few powerful Social Media Tips I picked up For you!
 The biggest take away and tip about social media would be to "Get social and network"… or in Facebook language – Engage… social media is all about connecting, listening and adding value to your followers life! Yes there are many people using social media that don't understand these simple rules and it could become detrimental to their social media existence..
Mayor Dean Fortin (Victoria) welcomed the audience and shared how social savvy Victoria has become with its technology rich citizens. This should encourage other cities to embrace social media. Nanaimo BC where I engage with the world is also very tech savvy!!
Mari Smith was my social media trainer and mentor back in 2010 when I began getting serious about teaching social media and Mari was the headliner for #SMCAMP… it was very SuperCalaFraGilistic seeing her again…
Mari's 5 Easy Steps to Master Social Media
Clarity ~ Focus and follow one course until successful
Be Congruent ~ Have an Authentic voice about your brand
Content ~ Be the authority behind your brand. Remember IBM said 90% of data in the world was created in the last 2 years.
Engagement ~ Two way conversations. Content is King, but engagement is Queen and She Rules the House!
Conversion ~ Yes you can sell. Try the 80/20 Rule. It's called "Social Equity"
Curation Tools to help you on your social media journey ~ Spundge.com ~ Trapit.com ~ Alltop.com
Post everyday, share content from other people. Delegate to a social savvy person. Strive for exceptional service. Be systematic
 Design ~ Eye Catching posts, Cover Images, make them your own "Think Branding"
Schedule postings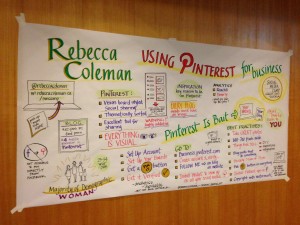 Pinterest ~ Get Pinning!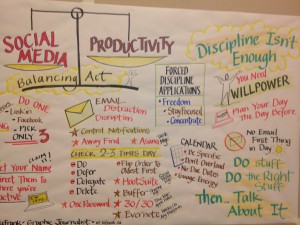 Social Media Productivity
LinkedIn Tips 
People Trust LinkedIn. It's more than a Resume site. It is a place to Build your professional network.
LinkedIn's model is "Relationships Matter"
Your Headline is the Most Important area, contact information and summary. Google will Index your information.
Twitter Tips 
Think Referrals. Create Lists. Talk to people, don't just Tweet, there is a lot of Noise out there. Think of a way you could stand out and be unique. Get Local!!
News Feeds and EdgeRank
One of the most interesting talks that focused on Facebook news feeds was from Chad Wittman of EdgeRank Checker he called Facebook your personal news paper and that a typical brand on Facebook only reaches 12% of their Fans. This is because today more people are doing more things on Facebook and this is taking up more space… there is only a Finite amount of room in a news feed… So how do you as a business page get more of your fans to see your page without paying to play?
Edgerank is definitely a word you need to get friendly with, there are three variables in a post which is called an Edge that make up an algorithm. 1. Affinity 2. Weight 3. Time Decay
Chad suggests that you….
Post at the most optimum time for your business audience
Don't POST POST POST ~ this only eliminates the previous posting
Time Decay ~ A posting is usually gone within 3 hours, posting two or three times a day is alright, unless of course your audience would only prefer one. Once again you need to know and understand your audience.
write a posting in an engaging manner. Examples might be… Fill in the blank___________
On a scale of one to ten_______  Have you ever_______  What do LIKE better a or b?
To increase Affinity you need to increase engagement, get your fans to do something… LIKE, Comment or the big kahuna SHARE your content. If a person LIKES your page and never does anything on it, Facebook decides you have no relationship with this FAN and Facebook stops feeding your postings into their news feed.
For weight ~ pictures carry the biggest bang for your buck.. Gorgeous, eye-catching photography ~ Brand your own. My tip to you would be to use Picmonkey.com Love it ♥
What is working against your Business Page?
Now here's a little shocker for you ~ the worst thing that could happen to your page is negative feedback, this happens when someone hides your postings, but when someone Unlikes your page this is really bad, worse even than reporting you as spam….Facebook collects this data…
Conclusion
There were so many more speakers that delivered excellent social media content including my own workshop "Facebook Head to Toe" but I just wanted to give you a taste of the incredible knowledge that is shared at these events. It would be my advice to you to attend an event if one comes close to your city. The amount of information is staggering and valuable in todays on-line marketing world.
You can implement the tips I'm sharing here… but in the end Nothing beats being there live.
ps. This is my interpretation of each speakers session and does not reflect the actual written material of the presenters.
Cheers!!
My name is Heather Clifford and I live in beautiful Nanaimo BC where I teach hands on social media all across North America. I help bridge the distance between technology and you utilizing social media as a marketing tool in your business. Ask me for help!