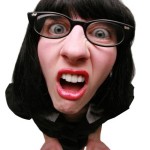 Simple Facebook Truths ~ Today!
It seems like we've been railroaded into mandatory Facebook advertising on our business page, in order for the people who have opted in to seeing our status updates can actually see them ~ Wow, what to do?
If you can be consistent on Facebook and create killer content that your followers just LOVE and share with their friends, you're probably going to be just fine not paying for REACH… but if you're like the rest of us in Facebook land you'll need to figure out the best approach to stay top of mind.
Don't get confused with what I just said, you still need great content in order not to be hidden or worst yet "Unliked"
The number one reason business pages are unliked today is because the page is putting out too much content, you're taking up valuable space in my personal profile news feed, and what you're posting isn't really that valuable to me…. anymore!
We know that less than 20% of the people who LIKE our page actually get to see our status updates. Does this mean we should post more often? People view Facebook at different times of the day and what you posted this morning could be long gone by noon… The key to Facebook's viral reach is to create engagement, get your followers to do something…LIKE, Share, Comment…
At this time no one can tell us what the perfect posting amount is, only you can determine this by what your followers tell you, and if only 20% of your followers get your message, you're still not going to know…. I know people who post every other day, while some people post 20 times a day…. DON'T over analyze everything… yes pay attention and if your insights tell you your audience is small you'll need to do something about it… or it is a waste of time spending it on Facebook thinking you are actually marketing to an audience. Facebook recommends at least three times a WEEK!!!
You decide if the number of people you hit each week is worth the time you are spending on Facebook. I am happy hitting 1000 – 10,000 people a week… yes it ranges that much..
Some pages are just more exciting than others, but really that comes down to the individuals creative mind. Personally I don't think it is a bad thing to spend $25 a week on advertising to hit more of my followers and their friends. I simple move my marketing dollars around and monitor which vehicle is giving me the most bang for my buck.
No longer is Facebook a fifteen minute time commitment for me ~ I've upped that ante to 30 minutes a day… and if I'm busy later in the day I schedule my post. I try to be as organic as possible and talk to my Followers as time permits, but LIKE you I can't spend my day on Facebook…
Here are a few Facebook Tips
Your brands social media strategy needs to be social and visual

You will need to integrate other medians of marketing on Facebook with video, awesome photos, webinars etc.

Come from a place of appreciation so your followers feel welcome ~ Gratitude!

To build your community you'll need to be authentic, honest, completely engaged and HUMAN!

You need FANS ~ Did you know most people will LIKE your page if you ASK them to

You'll need to showcase what you stand for and what it is you do as a brand or business to standout from the crowd

Listen to your Followers and remember answering their questions builds trust and relationships

Your strategy MUST be social by design but not contrived

Talk to people in first person ~ like they're your friends ~ keep it real!
The simplest things you do can make the biggest difference ~ I love to thank my new and existing followers!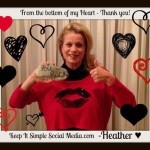 Click on the Photo
Nothing ever replaces Face to Face interaction, however today many businesses are on-line and selling products from their website…. it is still highly advisable that you get out from behind that computer and learn to socialize in real life… but don't forget to practice your elevator speech.
Cheers!
My name is Heather Clifford and I live in beautiful Nanaimo BC where I teach hands on social media helping businesses to bridge the distance between technology and marketing on-line through social media.