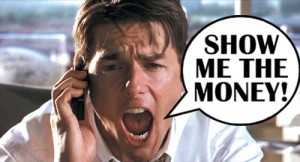 Last year Facebook sold $4.3 Billion (dollars) in advertising to small and large businesses around the globe. The social media giant has just woke up and is taking the internet on-line marketing world by storm. If you are in business today, to remain competitive you need a Facebook presence and you'll need to start advertising on-line… and to be specific…. with Facebook.
Why?
Because for the time being the eyeballs are there, and those eyeballs are the consumers who purchase your product. Facebook is on 24/7 and seems to come up in every conversation today. If your customer likes your product their friends will know and what's even more shocking is Facebook is the social network telling them, it is called utilizing the power of people through their personal profile and all of our friends on Facebook. The average Canadian on Facebook today has 300 friends, who have 300 friends, who have 300 friends…….
To increase reach on Facebook and hit more of your followers a little paid promotion is going a long way. Running promotions and advertising for your Facebook page is set up so everyone can play and the more you experiment with ads the better off you'll be.
You pick your budget and never pay more than you've stipulated when setting up the ad. You'll receive a detailed report that you can review at anytime the ad is running, you can stop the promotion or extend it. Facebook advertising is flexible and helps to generate leads to your product, website or your business page on Facebook if you want.

There are three types of ads you can run from the drop down menu "Advertise on Facebook"
1. Get more Page Likes
2. Promote Page Post
3. Advanced Facebook Ads Option
You can target your ads by location, gender and age (this is the option I love). I would recommend you try several different types of ads to find what works best for your product. Each business will have different motives.
There are two options for advertising right from your business page wall
1. Promote a post (Now called "Boost Post") is located just under your update in the bottom right corner and is similar to the promoted post option on the advertising page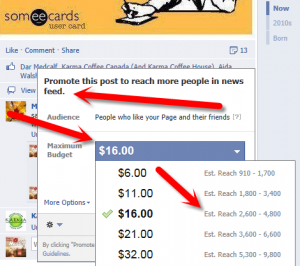 2. Facebook offers for pages with more than 100 LIKES is located next to the Status update option

With all the new choices for advertising your business on Facebook you'll need to make sure you have a plan and a budget in place. Your marketing dollars will need to go up or be balanced between your other traditional marketing methods.
Your business page will need to be taken care of in a consistent ongoing fashion that is professional, engaging and of interest or value to the followers. Marketing today has gotten a whole lot more personal and with that time-consuming.
We need to empower our audience, entertain them and educate…
You will need to know if all this money and time is paying off and you'll only know this over time and by asking the right questions to your audience and customers. There is no doubt my followers are seeing me and getting to know me from my business page and personal profile; You need to know it is working.
Can you tell me exactly why you're on Facebook and that you are following the business plan you implemented when building your page? Are you trying to drive traffic back to your website and if so is your website user-friendly?
It is almost as if we've had to gain a marketing/design degree without even having the opportunity to go back to school. We are needing to pay a lot of attention today to what we say and how it is said in order to be effective and not taken the wrong way. It is a slippery slope for some, while others have totally dialed into what their customers want and appreciate… do you think it is because they are listening, or maybe they are more social naturally? I'm not sure what the answer is because this is a new game and we're all on a level playing field. One thing for sure if you think you need a little help, you're probably right
Cheers!!
My name is Heather Clifford and I live in beautiful Nanaimo BC where I teach hands on social media in small groups. I travel throughout this wonderful province help businesses understand how social media works and how they can be a powerful marketing force by embracing todays technology.