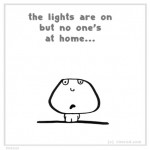 You Have a LinkedIn Account ~ But do you?
First I'd like to congratulate you for signing yourself up on LinkedIn, that is how one gets started with anything.
LinkedIn is getting a bad rap from many people and bloggers because we all know 200 million accounts does not equate to 200 million active users – Which I'd like to say are people who use the network at least a couple of times a week.
Yes we have Twitter abusers too…. today we're focusing on LinkedIn…every network struggles with people signing up and not having the time or finding the value to get engaged.
I want to share with you my experience using LinkedIn and the value I have found from utilizing my LinkedIn account on a regular base.
My connections on LinkedIn for the most part are very different from my friends on Facebook and for sure completely different from my Peeps on Twitter.
Right there in that sentence I have shared with you an important realization…. three networks and three different spheres of Influence, keeping my name and company "Top of Mind" for when and if anyone needs my services and I can do this in less than 30 minutes a day…or every other day if I'm too busy.
Having your finger on the pulse….
To be involved with the conversations on LinkedIn you need to participate, exactly the same as on any other network. Which means you need connections.
You can set up a professional profile on LinkedIn and use it as a place to store a uniquely different resume, in the least this will give you a LinkedIn presence. It is important if you set up an account that you fill in as much information as possible…. Think of it as your on-line resume…  people can search you out on any network and if they find you, what do you think goes through their mind when they read your PROFILE?
What I've noticed eight times out of ten is an account on LinkedIn is not even set up properly and that in itself can make you look unprofessional, it tells me you are unfamiliar with the network and perhaps social media all together.
Here is my daily journey on LinkedIn… I encourage you to try the same…
Log-In ~ Yes you need to actually Log-In… make a commitment
Check for invitations and messages (you'll notice a red flag)
Scroll through the updates and latest LinkedIn news – comment Like or share the postings
 Write your own update add a link or picture – connect to Twitter at the same time
See who's checked out your profile
Add up to five new connections
Endorse someone who you think does a great job or write a recommendation for someone you've done business with
IMPROVE your profile ~ Don't miss the most important features!
Visit any groups you're a member of – weigh in on the discussion ~ start your own group
Make sure you're thinking with your business hat…..
Now of course there are many more things you could do while on LinkedIn, like the other networks it is loaded with opportunity for engagement, I suggest you set a timer for each network you go on, this will ensure that it is you who is in control of the time.
Drop by my LinkedIn account Heather Clifford and ask to join my connections, just say we know each other through Keep It Simple Social Media in the drop down menu. Oh and by the way, when someone tells you they have 7,000,000 million connections on LinkedIn, this refers to three bodies of separation… the viral effect of utilizing social media… Because on LinkedIn you are only three people away from knowing the president.
Cheers!
My name is Heather and I live in beautiful Nanaimo BC where I teach hands on social media workshops helping business people to bridge the distance between technology and marketing on-line. Facebook for business, Twitter the referral way, LinkedIn as a professional, YouTube because it's Google owned and 4 billion videos are watch daily, and Pinterest as the new kid on the block. I travel around North America speaking, consulting and training people just like you… 250-668-3310