Some Habits are GOOD for you!
Have you ever noticed that in life if you want to be successful at anything you need to develop successful habits? The following "Ten Habits" if repeated with consistency will demonstrate your professionalism on social media and people will believe you to be reliable… because they know they can depend upon your constant advice… Remember Dear Abbey?
To write this blog I sat  in my kitchen in front of my window overlooking the pacific ocean, looking across to the city of Vancouver… I asked myself what is it you are doing everyday to add value to your social media sites and in particular Facebook? I asked myself how is it benefiting my business & more importantly is it going to benefit my readers – viewers – followers – peeps – connections & Likes……….. I decided these ten items were the staple for my success to date. Success leaves clues, all we need to do is recapture it as our own.
To always do a "check-up" from the "neck-up"… How is my mood, tone & manner. As the majority of people are on Facebook to enjoy their journey through their news feed you need to be considerate to not interrupt their flow with negativity. However there certainly is a place for compassion and sharing of relevent information in and around your life… I am speaking of your business page content you are adding, remembering that in most cases the reader is not a business but a personal profile.
Consistency is very important when it comes to social media, when you can be trusted to add valuable information on a regular base, people will look forward to your postings and come to expect to see you in their news feed – ask yourself right now, who do I expect to see everyday in my news feed?
Content is your foundation for respect. Therefor everyday you need to be searching your world through the eyes of your readers. I have always told my students once they finished their Facebook workshop that they would never look at the world the same again… Begin to notice the beauty and knowledge flowing around you and then learn how to share it with your followers through stories.
Believe that social media is for everyone, this means men – women.. 13+ to 100+ …. Do not judge the world of social media as a place for young adults and techy people… Think about the fact there are 1 Billion people on Facebook and most homes have a couple of computers.
Focus my friends because without it the vortex of the Internet will consume you. Focus is accomplished by preparing your content ideas ahead of time, researching and then writing out your "To Do List"  Just in case you missed my previous blogs "Scheduling" your social media because you understand it's value will put you leaps and bounds ahead of the competition.
Education & Learning – The world is full of valuable information, tools and resources, there are people in your very own city that specialize in helping small businesses get started, be found and then remembered on the Internet. In today's world of fast paced information you always need to be aware of whats new and grow along with technology. My dad is 82 years old and he got his first computer last year..wow, cool isn't it?
Less Selling more social – Facebook for most businesses is more a way to keep your company top of mind, and while it seems ridiculous to some business owners, adding postings that encompass humour or grab our attention with magical photography is a big part of being social. My general rule is 20% selling and only if I have something of great value. 60% Educational & 20% haa haa.. I try to make my jokes relevent to my business.
Think Referrals – There is no bigger compliment then a referral which comes through a friend… we trust our friends opinions and values, so when you use social media why not consider caring and sharing new people and places by talking about it on your personal profile or business page… I saw a fabulous example of this last night on Facebook… (with permission from Marge)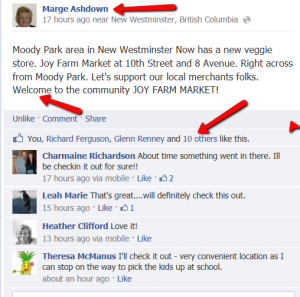 Marge Ashdown – Park Georgia Realty Burnaby
9. Have an Attitude of Gratitude – say Thank you to the people who spend time on your social sites, they are the ones that determine your success on social media…appreciate and respect their time… talk to them when they stop by on Facebook… get social!
10. No I have more… ok here is the last Habit for Success.. You only need to look around you to find successful idea and the people who work for you are a rich resource of valuable content, how about your costumers who love your products, think video, grab your camera…. If you're excited they'll be excited and want to be involved, then ask them to tag themselves and welcome them to share on their networks with their friends…
Writing this blog today was very exciting, every time I went over an idea in my head I could picture businesses using the suggestions in different ways. Facebook will only be successful for you if you hold hands with others. If your heart is in it and you're smiling along your journey you're half-way to meeting the goal of a successful business page. I hope you found value in today's blog and ask that you share these 10 Habits with your social networks. Please remember that if you have questions about social media you can write it directly on my Facebook Business Page wall "Keep It Simple Social Media"
My name is Heather Clifford and I live in beautiful Nanaimo where I teach hands on social media. I am a speaker, consultant and social media trainer who is passionate about helping small businesses be found on the world-wide-web. Social Media in Nanaimo is a growing force of enthusiastic entrepreneurs and business owners looking to connect with the world…search us out and say hello! 250-668-3310