850×315 Pixels
Tis the Season to be Jolly!
With the holiday season in full swing ask yourself how festive your social media is? By including some holiday cheer in your postings and graphics your followers can get a glimpse into your personality..It will let them know you care about your surroundings and your community… Depending on the pictures and words you choose it will also let them see your sense of humour and the tone of your page.
On Facebook it is recommended that you switch up your cover image every month or two….and what easier way to do it then with the change of the seasons or celebration of a special holiday…Think about the rapidly approaching New Year.. how about ringing it in with an awesome resolution on your page…. oh & I can't wait for Valentines… I'm already thinking ahead to the enormous amount of choices I have..Love using hearts… (alt 3)
When I'm teaching Facebook workshops I like to share ideas for Cover Images by displaying a few of my favorites and getting my students thinking about who their audience is… elicit an emotion, make me LIKE you before I even get to know you… Pictures are your branding and a subliminal form of marketing…
When you get someone to actually come to your new page the cover image is the very first piece of real estate they will see. How does your cover image make them feel?  Excited – Laugh – Sad – Curious – Does it make me think?
Ask yourself with honesty if your cover image represent the products and services you offer…Does it brand you?
I do understand that it takes time to get comfortable with what you should be focusing on with your cover image, we are so used to selling that it is awkward to step away from this type of marketing & embrace the new world of community, sharing & caring… so openly.
I LIKE to say to my students in the real estate community that you sell much more than houses when you work for months & months with people to put them safely into a home…they go up and down the socio ladder… you sell the community and neighborhoods, the trails, parks and schools, you sell a home where a family will be raised, dinners and parties will occur…where people start a new life, you are selling the whole package….
Putting a for sale sign or another picture of you on your cover image… might not be the best use of this real estate… How about a picture of the happy home owners with their family outside their new home…or a picture of the celebration during their "House warming Party" ( you do need to ask for permission) then you can promote your page and ask everyone to tag themselves in your photo.
Try to be creative and think outside the box a little… don't throw away the box but experiment & have fun..Try PicMonkey.com
Did you know Facebook has a "Happiness Index Monitor"… It's true, Facebook is an emotional vehicle used by businesses to share important information, specials & basically keep your business top of mind… We all love happy people and colorful emotional photography… It's a small window into the person behind the page…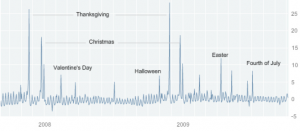 I hope this helps you think about your cover image as a conversation and a warm welcoming first step into building your community on Facebook..
ps. Don't forget once you upload your cover image to attach a description to it – click on mine here for an example…please leave a comment to let me know you were there… Keep It Simple Social Media
Cheers!
My name is Heather Clifford and I live in beautiful Nanaimo BC where I teach hands on social media all across this gorgeous province. I'm a trainer, speaker and social media consultant who would be happy to share some of my knowledge to get you utilizing the power of social media for your business… Just give me a call 250-668-3310