Great Question – I never thought you'd ask
Facebook is no quick fix for a business that has bad products or terrible customer service … but lets just say for argument sake you have awesome products and unbelievable service… Facebook is a compliment to your existing marketing and can create a further reminder that you are still in business… for when and if that person needs your product… I call it the "Forget YOU Not"
Facebook is also a marketing genius for when you have a big sale coming up or the launch of a new product…it is an effective way to reach even more customers than the ones following you. This however will only work if your business page is functioning on all cylinders….meaning you KNOW what you're doing.
It's like my friend Chris from BWest Interactive said during Social Media Camp Nanaimo 2012… "If you open a bank account and a week later you go back to the bank to withdraw money and none comes out… It is probably because you never put any money in"…Right?… Input=Output…
Your very first goal with your business page should be to get 30 LIKES. Yes, that's all…. this way your metrics start working and you can monitor your efforts, look at your followers more strategically, and find out what content is being read and appreciated. This very important page on Facebook is known as your Insights tab. After you accomplish this goal your next milestone is 400 LIKES from people. Once you've achieved this number you can use "Offers & Promote this Post" both are amazing new affordable advertising options.
( For $20 I went from 2000 views in one week (found in your Insights Tab under "Weekly Reach") up to 12,000… Now I'm excited…and you should be too)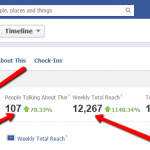 Then again you can always run a great ad on Facebook at any time and target your audience this way… but when I come to your Facebook Business Page you better look professional and you better have some friends on it…Do you know what else I'm looking at? Your "Talking About"
Heres why
I only have so much time in my day to spend on Facebook so when I'm on it I want to be strategic and powerful… If no one is following you – and your own page is only hitting a few people a week…It makes no sense that I waste my time on your page..because my Business is not going to be seen by anyone when I Comment or Like your posts…Did you know that Facebook only sends your message to about 16% of your followers…With 3 billion likes and comments being made on Facebook every day…It would be impossible to send all your followers your postings… Facebook decides who is going to get your message based on your engagement with them… This is known as your "Talking About" Remember having a business page is LIKE attending a Chamber of Commerce business lunch…a place where you network with other businesses owners & on Facebook it includes ALL their customers…sorry folks it's basic economics…..We all want to be where the action is – Simple!
Sorry if this makes you queasy but I need to tell you the truth right now, the sooner you realize how powerful Facebook is as a marketing tool the sooner you'll start to take it seriously and ask for help… Facebook is not a game, it's a 150 billion dollar business!
My name is Heather Clifford – I live in beautiful Nanaimo BC & I welcome your comments – I can be reached my e-mail kissocialmedia@gmail.com or by telephone 250-668-3310 if you'd like to discuss your Facebook Business Page or your social media business plan. I teach small hands on social media clinics all across British Columbia. I am a consultant and speaker who is very passionate about social media and sharing the value of marketing your business through the many networks available.